Understanding Mosquito Reproduction
---
UC Riverside Researcher Unlocks Mosquito Reproduction Mechanism
Research has Implications for Controlling the Spread of Malaria, Yellow Fever, Dengue Fever and West Nile Virus

(July 9, 2004)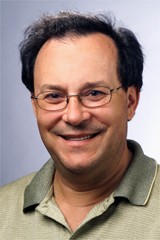 Alexander Raikhel
RIVERSIDE, Calif. (www.ucr.edu) — Alexander Raikhel, a professor of entomology at the University of California, Riverside, headed a team that discovered a chemical chain reaction which prompts disease-spreading mosquitoes to produce and mature their eggs. Manipulation of this process may be key to controlling the mosquito populations responsible for the spread of disease.
The findings are reported in the June 28 issue of the Proceedings of the National Academy of Sciences. Raikhel and a team of postdoctoral researchers from the entomology and biochemistry departments at UC Riverside conducted the research.
Finding a way to block this chemical pathway could become a valuable tool in controlling the population of an insect that spreads such destructive diseases as malaria, yellow fever, dengue fever and West Nile virus.
According to the Centers for Disease Control and Prevention, 41 percent of the world's population live in malaria-prone regions, and an estimated 700,000 to 2.7 million people die of malaria alone each year, 75 percent of them are African children.
The paper, titled "Target of rapamycin-mediated amino acid signaling in mosquito anautogeny," reveals the chemical pathway that unlocks the mosquito's reproductive system after feeding on the blood of a host. Disease transmitting mosquitoes use a reproductive process called anautogeny that requires that the female feed on blood to begin egg maturation. This process makes the insects effective disease vectors because, in order to reproduce, they need to feed regularly thereby requiring frequent contacts with animals and humans.
"This strategy (anautogeny) is important for driving disease transmission, however the molecular mechanisms underlying this phenomenon are still poorly understood," wrote Raikhel. "Anautogeny is a widely utilized mechanism among insects. Egg maturation is triggered by intake of blood not only in mosquitoes but other vectors of human and livestock diseases. A similar strategy of regulating of egg development via nutritional signaling is used by house pests such as cockroaches and houseflies and numerous vectors of plant diseases (aphids etc.) Therefore, our discovery may have significant implications in developing future methods of pest control."
The target of rapamycin pathway that Raikhel and his team write about is a biochemical signal, originating from amino acids that are released as blood is being digested in the mosquito. This signal allows the mosquito to respond to the hormones needed to produce and mature eggs in the female.
The University of California, Riverside (www.ucr.edu) is a doctoral research university, a living laboratory for groundbreaking exploration of issues critical to Inland Southern California, the state and communities around the world. Reflecting California's diverse culture, UCR's enrollment has exceeded 21,000 students. The campus opened a medical school in 2013 and has reached the heart of the Coachella Valley by way of the UCR Palm Desert Center. The campus has an annual statewide economic impact of more than $1 billion.
A broadcast studio with fiber cable to the AT&T Hollywood hub is available for live or taped interviews. UCR also has ISDN for radio interviews. To learn more, call (951) UCR-NEWS.