Gluck Program Continues Successful Run
---
New $1 Million Grant to UC Riverside Strengthens Arts Outreach
Gluck Foundation Continues Important Relationship with UC Riverside
(August 11, 2004)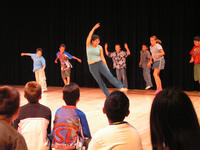 Enlarge
UCR dancers work with school children at the 2004 Gluck Day of the Arts
RIVERSIDE, Calif. (www.ucr.edu) -- A $1 million grant from the Maxwell H. Gluck Foundation will continue a successful arts outreach program that puts faculty and student artists from the University of California, Riverside directly into the community.
The grant, which continues the Gluck Fellows Program of the Arts though June 30, 2006, brings the total Gluck Foundation funding to UCR to nearly $4 million since its inception in 1996. Dancers, writers, musicians, actors and art historians teach and perform in schools and nursing homes in the Inland area. It is one of only three similar arts programs in the nation funded by the Gluck Foundation. The other two are at The Juilliard School and at the University of California, Los Angeles.
"We will continue to provide the same wide variety of arts programming as offered in previous years," said Sarah Fritsche, Arts Outreach Coordinator at UC Riverside. "That includes our free music and dance performance/lecture series in downtown Riverside at the Riverside Public Library and the UCR/CMP; the Conversations with the Choreographers series, jointly sponsored with UCR Cultural Events; along with the many other arts presentations, performances and workshops that we offer directly to schools, nursing homes and other community participants."
Workshops have included dancers and choreographers, singers, costumed actors, poets, art historians and others. They travel to a school or nursing home and bring the arts to an audience that might otherwise be left out of the experience. Some current partners in the program are: Sherman Indian High School, Moreno Valley High School, Arlington High School, Chemawa Middle School, Community Care and Rehabilitation Center, Longfellow Elementary School, Cypress Gardens, Emerson Elementary School, Gage Middle School, Edgemont Elementary School, North High School, the Jerry L. Pettis Memorial Veterans Administration Hospital, Magnolia Rehabilitation and Nursing Center in Riverside, Lincoln High School, Poly High School, Mira Loma Middle School, Ramona High School and Plymouth Tower Retirement Community.
Dance Professor Wendy Rogers, who is the co-director of the Gluck Modern Dance Ensemble, said with each passing year, the Gluck program is accumulating benefits, not only for the audience but for the performers. She said one of her own student dancers, Megan Maxwell, remembers a performance at Ramona High School when she was a student there. "She recalled seeing a performance of the Gluck Modern Dance Ensemble and she wanted to be a part of it. And now here she is."
Joel Martin, interim dean of the College of Humanities Arts and Social Sciences, said he is grateful to the Gluck Foundation for its long-standing support of UC Riverside arts.
"The Gluck Foundation had the vision, and our students and faculty leaders, such as faculty coordinator Susan Rose, have shown extraordinary creativity in implementing it," Martin said. "We are in the process of inviting representatives from the other Gluck programs to come here and see firsthand what we've been able to achieve."
What people are saying about the Gluck Program at UC Riverside:
"Your program is incredible. It has a definite impact on students, teachers, and parents." -Emerson Elementary School Teacher Jenny Sherbon
"They are learning about personal talents that can be used in many ways and that they can achieve a dream through the arts." -Longfellow Elementary School Principal Maria Ortega on what she feels her students gain from their participation in the Gluck Program
"Insight into other forms of creative expression, opportunities to experience live performances that many of them would/may probably never experience in their lifetime, and an opportunity to expand their higher level critical thinking skills. Plus — they get to meet some extremely cool college students!" -Sherman Indian High School Teacher Monica Royalty on what her students gain from their participation in the Gluck Program.
"At first they were hesitant and nervous about performing an improvisation, and they were unconvinced that the simple movement we were going to use would be interesting, either to them or to the audience. Over the course of the project they became completely invested in it. They had an amazing performance on their concert, and talking to them the next morning, it was clear that the whole experience has changed the way they think about dance and performance and about themselves and dancers and performers. Incredibly rewarding." -Graduate Dance Fellow Roxane Fenton on her workshops at Ramona High School
"Truly, the best part of teaching was watching them get excited about what they were doing in the show. They became proud of themselves and their abilities. Knowing that I helped bring that confidence to them meant a great deal to me." -Undergraduate Theatre Fellow Matt Jackson on his master classes in dramatic production at University Heights Middle School
"It was a great chance for me, as an international student, to connect and communicate with local people. They really wanted to know and learn something about another country's culture and dance. Opportunities of this kind will benefit the children in understanding the multicultural society and its cultural diversity in the long run. I believe, in this sense, the Gluck Program is very meaningful." -- Graduate Dance Fellow Won-sun Choi on her Korean folk dance workshops
RELATED LINKS
ADDITIONAL CONTACTS
The University of California, Riverside (www.ucr.edu) is a doctoral research university, a living laboratory for groundbreaking exploration of issues critical to Inland Southern California, the state and communities around the world. Reflecting California's diverse culture, UCR's enrollment has exceeded 21,000 students. The campus opened a medical school in 2013 and has reached the heart of the Coachella Valley by way of the UCR Palm Desert Center. The campus has an annual statewide economic impact of more than $1 billion.
A broadcast studio with fiber cable to the AT&T Hollywood hub is available for live or taped interviews. UCR also has ISDN for radio interviews. To learn more, call (951) UCR-NEWS.