Political Experts at UCR
---
Presidential Politics Experts at UC Riverside
Expertise on Media Bias, Political Spouses, Big Government in the War on Terror, and Third Parties and Voter Behavior

(September 22, 2004)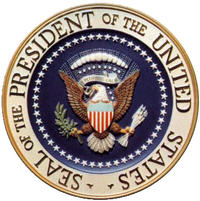 The Seal of the President of the United States
RIVERSIDE, Calif. —
www.ucr.edu
— University of California, Riverside faculty bring expertise in specialized areas of today's political debate and can enlighten stories about perceptions of media bias in politics, the role of political spouses, the role of big government in addressing the needs of the war on terror, and how third parties affect voter behavior.
PERCEIVED MEDIA BIAS
Martin Johnson,
assistant professor of political science
Johnson's examinations of the ways in which the American public views the objectivity of the news media relates to the recent revelations that CBS News used phony documents in a story about President George Bush's National Guard service. Johnson studies how assumptions of bias in the news media impact the way people vote. Johnson received his bachelor's degree in journalism before earning advanced degrees in political science.
He has been quoted extensively in the media. In a story about Michael Moore's
Fahrenheit 9/11
in the
Christian Science Monitor
, he said, "Who's going to go? People who want to see Moore take on Bush and the war on terror, and people who want to go so they can walk out! If anything, it will heighten the divisions and promote activism among the already-decideds."
Contact
Telephone: (951) 827-4612
Email: martin.johnson@ucr.edu
POLITICAL SPOUSES
Catherine Allgor,
associate professor of history
Some say Laura Bush's reserved style is a return to the traditional model of an American First Lady. But Prof. Allgor notes in her groundbreaking 2000 book,
Parlor Politics: In Which the Ladies of Washington City Help Build a City and a Government,
America's first First Ladies were engaged politicians who often helped shape the direction of domestic and foreign policy for husbands such as James Madison and John Quincy Adams through lobbying at social events such as dinners, dances, and what would today be called cocktail parties.
After a career in the theatre, Catherine Allgor received her Ph.D. in 1998 with distinction from Yale University, where she also won the Yale Teaching Award. Her dissertation on women and politics turned into her book,
Parlor Politics
. Professor Allgor has also written on politics, women, and religion for national publications, and her newest project is a political biography of Dolley Madison.
Contact
Telephone: (951) 827-1972
Email: catherine.allgor@ucr.edu
ROLE OF BIG GOVERNMENT
Max Neiman,
professor of political science
The era of big government is, apparently, not over. In fact, big government will be asked to address many of the changes recommended by the 9-11 Commission, such as retooling Intelligence, tightening America's borders, and developing a global diplomatic and public relations strategy to contest radical Islamist ideology. Neiman's 2000 book,
Defending Government: Why Big Government Works,
documents the public's declining confidence in the system, and lays out the dangers of too much cynicism in the political process. "The disdain about government is, I think, based on misconceptions about its role in a democratic society," he said, arguing that only an active and informed public can keep government from becoming an oppressive, unresponsive bureaucracy.
Contact
Telephone: (951) 827-4693
Email: max.neiman@ucr.edu
THIRD PARTIES AND VOTER BEHAVIOR
Shaun Bowler,
professor of political science
Of the political conventions, Prof. Bowler says, "The big issue remains geography. The national level stories — how well is Nader doing and the nationwide slices of the vote — mask the real story, which is where those votes come from. And, in particular, can Kerry find a way to offset the edge in the Electoral College enjoyed by the President as a consequence of re-apportionment and the over-representation of some states relative to others, especially relative to California?"
Bowler studies the effect of third party candidates on elections, including how voters sometimes make a "strategic" vote for a third-party candidate in the primary even if they will vote for a major party candidate in the general election. The co-author of
Demanding Choices: Opinions and Voting in Direct Democracy,
Bowler has studied elections all over the world.
Contact
Telephone: (951) 827-5595
Email: shaun.bowler@ucr.edu
The University of California, Riverside (www.ucr.edu) is a doctoral research university, a living laboratory for groundbreaking exploration of issues critical to Inland Southern California, the state and communities around the world. Reflecting California's diverse culture, UCR's enrollment has exceeded 21,000 students. The campus opened a medical school in 2013 and has reached the heart of the Coachella Valley by way of the UCR Palm Desert Center. The campus has an annual statewide economic impact of more than $1 billion.
A broadcast studio with fiber cable to the AT&T Hollywood hub is available for live or taped interviews. UCR also has ISDN for radio interviews. To learn more, call (951) UCR-NEWS.