UCR Palm Desert Leaders Named
---
UC Riverside Announces Senior Appointments for Campus in Palm Desert
Newly Established Campus to Open Fall 2005
(September 9, 2004)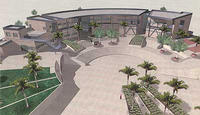 UCR Palm Desert Phase I
RIVERSIDE, Calif. —
www.ucr.edu
— The University of California, Riverside today announced two senior appointments for the UCR Palm Desert campus — Dr. Kenneth D. Walters as Executive Director and Terry L. Green as Director of External Relations and Campus Operations. Walters and Green began their new duties on Sept. 1, 2004. Green has served as Assistant Dean for Desert Programs at UC Riverside since 2000.
"An extensive nationwide search has proved fruitful for UCR and the Coachella Valley with the appointments of Dr. Ken Walters and Terry Green," said UC Riverside
Chancellor France A. Córdova
. "Ken has an impressive background in business administration and entrepreneurism, and Terry Green has a deep knowledge of the needs and aspirations of the Coachella Valley. These are two talented leaders who will ensure that we realize our goals of bringing quality professional education and new opportunities for partnerships to the growing desert community."
Walters, 62, has extensive academic and administrative experience as well as strong ties to the Desert community. He has served as Dean and Professor of Business at the Anderson Graduate School of Management at the University of New Mexico and as Dean of the College of Business at California Polytechnic State University, San Luis Obispo. He joins UC Riverside from the University of Washington where he was Professor of Business.
"I am honored to join UC Riverside and inspired to make the Palm Desert campus an integral part of the economic diversification and social development of the desert communities," said Walters. "The plans for this campus are exciting and exactly on target with community needs and aspirations."
Working closely with Chancellor Córdova and Executive Vice Chancellor/Provost, Ellen Wartella, Walters will be responsible for the development and operation of the campus at UCR Palm Desert. He will also work closely with the, as yet, unnamed Director of the Heckmann International Center for Entrepreneurial Management and with UC Riverside's academic deans in the development of academic programs for the new campus. In addition, he will serve as the primary spokesperson for UCR Palm Desert and he will be responsible for marketing and development activities.
Prior to joining UC Riverside, Green, 53, spent 17 years as an administrator with College of the Desert and the past nine years with UC Riverside as a development officer and as the Assistant Dean of Desert Programs. A resident of the Coachella Valley for the last 26 years, he has served on many local boards and commissions including those of the McCallum Theatre, JFK Hospital, College of the Desert Board of Trustees, City of Palm Desert, the Friends of the Mountains Conservancy, College of the Desert Alumni Association, and the Coachella Valley Economic Partnership.
Green will assist in the design and implementation of programs and services housed at UCR Palm Desert and will serve as community liaison for identifying local needs and local support for campus programs and operations. In addition, he will assist in campus marketing, public relations and development activities, and coordination with other higher education institutions.
Construction of the two-building campus at the corner of Cook Street and Frank Sinatra Drive began in January 2004. It will consist of the 21,209-square-foot Richard J. Heckmann International Center for Entrepreneurial Management, named in honor of US Filter founder Richard J. Heckmann, and an additional 23,600-square-foot educational facility. Heckmann generously donated $6 million for the construction and UC Riverside received $10 million in state funds to design and build the additional educational facility, and for infrastructure improvements to the campus as a whole.
UCR Palm Desert will be an international center for social, scientific, cultural, and technology education and research. Its programs will focus on entrepreneurial management, the physical and cultural environment, and their intersection, with the goal of meeting the challenges that affect communities experiencing rapid growth and change.
Initially the campus will comprise two centers for graduate and postgraduate education: the Richard J. Heckmann International Center for Entrepreneurial Management and a second center that addresses quality of life issues, with an emphasis on culture and the arts, regional environmental policy, and environmental science and engineering research. The programs offered by these centers will include environmental engineering, sustainability, energy efficiency, transportation, technology transfer, arts and nonprofits, and health care.
In partnership with the desert community, businesses, and other educational institutions, UCR Palm Desert will use the Coachella Valley as a model system to develop holistic approaches to simultaneously meet the needs and challenges of rapidly growing regions, stimulate the local economy through technology transfer, and preserve the area's natural and cultural resources.
Douglas E. Barnhart, Inc. of San Diego is building the UCR Palm Desert campus. When open in fall 2005, the campus will offer a unique opportunity to create an unprecedented model for higher education in the Coachella Valley, based on the missions and strengths of all three systems of public higher education in the state.
Walters holds a Ph.D. from the University of California, Berkeley Haas School of Business, a J.D. from Stanford University School of Law and a B.A. from Walla Walla College. He and his wife, Karla, have spent 20 years visiting family in the Coachella Valley and they own a home in Palm Desert.
Green holds an M.A. in Education, a B.A. in History and Secondary Teaching Credential from the University of California, Riverside as well as a California Community College Administrative Credential. He and his wife, Jacke, are long-time residents of the Coachella Valley.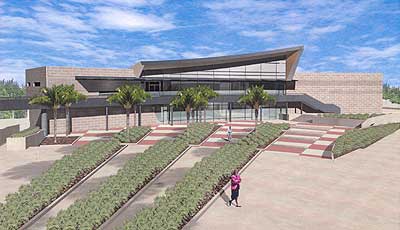 UCR Palm Desert Phase II
ADDITIONAL CONTACTS
The University of California, Riverside (www.ucr.edu) is a doctoral research university, a living laboratory for groundbreaking exploration of issues critical to Inland Southern California, the state and communities around the world. Reflecting California's diverse culture, UCR's enrollment has exceeded 21,000 students. The campus opened a medical school in 2013 and has reached the heart of the Coachella Valley by way of the UCR Palm Desert Center. The campus has an annual statewide economic impact of more than $1 billion.
A broadcast studio with fiber cable to the AT&T Hollywood hub is available for live or taped interviews. UCR also has ISDN for radio interviews. To learn more, call (951) UCR-NEWS.