He's a Paperback Writer
---
UCR Geneticist's Plant Sex Book Gets Paperback Edition
"Dangerous Liaisons? When Cultivated Plants Mate with Wild Relatives"
(September 22, 2004)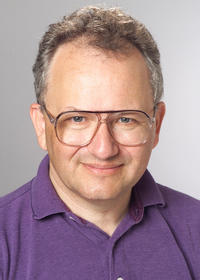 Enlarge
RIVERSIDE, Calif. (www.ucr.edu) -- UC Riverside Professor Norman C. Ellstrand's latest book on plant genetics sold so well that its publisher is putting out a paperback edition -- an unusual development for a scholarly tome.It's rife with sex, of course.
"I've always been fascinated by evolution — and sex," Ellstrand said. "Those interests first drew me down the long path that brought me to writing this book."
"Dangerous Liaisons? When Cultivated Plants Mate with Wild Relatives," first published in November by Johns Hopkins University Press, is about consequences of field release of transgenic plants. Manipulated pollen can transfer genetic changes into wild plant populations with unintended -- and often negative -- results.
"The life cycle of most academic monographs ends a few short years after the cloth edition is published," said Becky Clark, the publisher's marketing director. "Norman Ellstrand's 'Dangerous Liaisons?' presents us with a delightful exception to this rule."
The book describes evolution of new hybrid weeds; the increased risk of extinction if the wild plants are already rare; and the potential for contaminating important natural plant varieties. The book ends with recommendations for managing engineered genes when they inevitably escape into wild populations.
"Although such plant liaisons have been going on for thousands of years, the issue has gained significance with the invention of genetically engineered plants," Ellstrand said. "A topic once of interest only to a small band of plant evolutionists now attracts the attention of activists, policy makers and players in the world of biotechnology."
One happy consequence of paperback publication, Ellstrand said, is that his book will cost less: "Contacts in Third World countries tell me that with its reduced price, they will now be able to afford the book."
Ellstrand, professor of genetics in the Department of Botany and Plant Sciences, has been at UC Riverside since 1979. More than 100 papers in scientific journals document his research in plant genetics and gene flow. His Ph.D is from the University of Texas and he is a fellow of the American Association for the Advancement of Science.
What scholars have said of Ellstrand's "Dangerous Liaisons?":
"In the stormy sea of debate over genetically modified organisms, Ellstrand's book is a safe and fascinating harbor of science-based opinion on cultivated plants in their larger gene pools. A visionary scientist and an ethical public servant, Ellstrand sets the quality standards for all who will follow." - Gary Paul Nabhan, Director, Center for Sustainable Environments, author of Coming Home to Eat: The Pleasures and Politics of Local Foods.
"A well-written, objective account of the prevalence and roles of hybridization in plants, focusing on the relationships between crops and their wild and weedy relatives. This book is important reading for those concerned with the development of agriculture in the future, and the standards that ought to be applied when new strains of crops are developed. Norman Ellstrand has provided us with the best account of this important field." - Peter H. Raven, Director, Missouri Botanical Garden.
"Buckle up for a rollicking ride through the world of plant sex. Norman Ellstrand, scientific investigator, is on the trail of a little-noticed phenomenon, the migration of plant genes across the boundaries of farmers' fields. He provides a comprehensive and even-tempered look at an old phenomenon that has suddenly acquired new relevance in this era of genetically engineered crops. An essential guide to a fascinating and often startling topic." - Daniel Charles, author of Lords of the Harvest: Biotech, Big Money, and the Future of Food.
"This book brings science to bear on a controversial issue - the possible escape of engineered genes into wild species. Although Ellstrand's discussion is nuanced and sophisticated, his friendly and informal writing style makes it palatable. Ellstrand has produced the rare book that does not compromise the science yet remains a pleasure to read." - Loren Rieseberg, Indiana University
"With insight, originality and extraordinary scholarship, Norman Ellstrand brings together classical and current knowledge about crop evolution, crop breeding and evolutionary ecology, weaving historical and ultra-contemporary themes into a single, comprehensive treatment. This book is a masterpiece that will be highly influential and widely cited." - Allison Snow, Ohio State University.
The University of California, Riverside (www.ucr.edu) is a doctoral research university, a living laboratory for groundbreaking exploration of issues critical to Inland Southern California, the state and communities around the world. Reflecting California's diverse culture, UCR's enrollment has exceeded 21,000 students. The campus opened a medical school in 2013 and has reached the heart of the Coachella Valley by way of the UCR Palm Desert Center. The campus has an annual statewide economic impact of more than $1 billion.
A broadcast studio with fiber cable to the AT&T Hollywood hub is available for live or taped interviews. UCR also has ISDN for radio interviews. To learn more, call (951) UCR-NEWS.