High Schoolers Do Summer Research
---
Summer Research Allows High Schoolers to Make a Big Difference in a Small Way
Frontiers in Nanotechnology Experience Extended for Select Group
(September 24, 2004)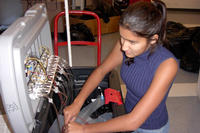 Farzana Ansari working in Professor Akula Venkatram's laboratory
RIVERSIDE, Calif. —
www.ucr.edu
— Doing scientific research with University of California, Riverside professors was an unexpected highlight for six high school students whose essays about why they wanted to do research were selected during this summer's Frontiers in Nanotechnology program.
The summer program, in its second year at UCR, ended on July 2 for all but six of 35 area high school students — and the experience for these six changed their views about college and what research is really about. The seven professors involved in the program were also very impressed by the focus and intelligence of the high school students.
All the students said they wished the summer were longer and that they would love to come back during the year. Many plan to apply to UCR.
"Next fall I'm going to apply for Mechanical Engineering at UCR," said Farzana Ansari, a senior at North High School, who at first said she didn't know whether she wanted to major in Mechanical Engineering or go to medical school. But after working five weeks in Professor Akula Venkatram's lab preparing air samplers that will chart how gas and particulate matter are transported in the atmosphere she was leaning toward the former. "This has been an unforgettable experience," Farzana said.
"At first it was hard to wake up early on a summer vacation to come to work, but I have no regrets," Farzana said. " I learned how the scientific process works. Sometimes I worked in a team with 14 undergraduate students and at other times I worked on the computer using MATlab (a computer program that uses calculus)."
Lorelei Stoica, finishing her sophomore year at Sunny Hills High School in Fullerton, also wondered if she wanted to be a doctor. But after working with Vladimir Parpura, physician who teaches neuroscience at UCR, she is considering an M.D./Ph.D. program some day. For Parpura, who has never had high school or undergraduate students work in his lab before, the experience was eye opening too.
"I was surprised at how well Lorelei performed in the lab. She is a natural," he said. "I would definitely have her back." Lorelei conducted experiments with astrocytes (a type of brain cell) to determine how they communicate with neurons.
"I wish UCR had an Aerospace Engineering degree, so I could apply here," said Robert Haynes, a 10th grader from Cajon High School in San Bernardino. He worked in Professor Robert Haddon's laboratory testing the purity of nanotubes — the miniscule building blocks of nanodevices, one-billionth the width of a human hair.
Julie Pang, also of Sunny Hills High School in Fullerton, wants to be a pediatric cardiologist, an ambitious career choice for someone 15 years old. Over the summer she worked in Professor Nosang Myung's lab with researcher Kawai Tam studying bacteria that causes dental cavities. She described in detail how she used a spectrophotometer to mix the cells and transferred similar groups onto culture plates to look for standardized techniques for correlating bacteria. After doing research with Tam she now knows she loves research and wants to apply to UCR or Stanford.
"She did a great job and has provided me with some useful data for my research work" said Tam. "I found her to be an exceptional student who could grasp the complexities of research easily at her young age."
Alexandra Paramo, a 10th grader at Ramona High School began working in Professor Roland Kawakami's lab side by side with undergraduate and graduate students after the nanotechnology program ended. She used germanium (a semiconductor) and magnesium (a magnetic material) to create a magnetic chamber that will be used to layer atoms and hold them together.
"Working with Professor Kawakami and the other students in the lab made me realize that I don't want to put myself into any niche," Paramo said. " I want to learn as much as possible about physics and take a lot of different science classes in college. I hope I can come back and work at the lab during the school year."
Several students indicated they want to take more physics classes when they get to college. "Now I know why I am studying chemistry and physics in high school," Haynes said. "The summer nanotechnology program opened up a whole new world for me. I never realized how much it affects all of humanity. Working with nanotechnology this summer really made me feel that, in a small way, I was making a difference."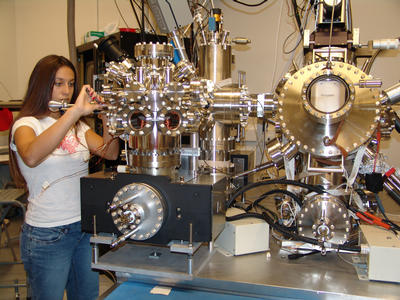 Alexandra Paramo working in Professor Roland Kawakami's laboratory
RELATED LINKS
ADDITIONAL CONTACTS
The University of California, Riverside (www.ucr.edu) is a doctoral research university, a living laboratory for groundbreaking exploration of issues critical to Inland Southern California, the state and communities around the world. Reflecting California's diverse culture, UCR's enrollment has exceeded 21,000 students. The campus opened a medical school in 2013 and has reached the heart of the Coachella Valley by way of the UCR Palm Desert Center. The campus has an annual statewide economic impact of more than $1 billion.
A broadcast studio with fiber cable to the AT&T Hollywood hub is available for live or taped interviews. UCR also has ISDN for radio interviews. To learn more, call (951) UCR-NEWS.