Visiting Scholar, Textbook Author Dies
---
UC Riverside Visiting Scholar Dies
Neil A. Campbell Wrote Landmark Textbooks in Biology for High School and College Students
(October 25, 2004)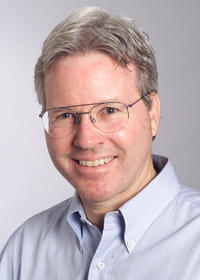 Enlarge
Neil A. Campbell
RIVERSIDE, Calif. —
www.ucr.edu
— Neil A. Campbell, the author of a widely-used introductory college biology textbook and a visiting scholar at the University of California, Riverside, died Thursday, Oct. 21 at Redlands Community Hospital after suffering heart failure. He was 58.
Dr. Campbell received his doctorate in plant biology at UCR in 1975, after which he taught at Pomona College, Cornell University and San Bernardino Valley College before returning to UC Riverside in 1989. While at San Bernardino Valley College, Dr. Campbell received that college's first Outstanding Professor Award. Upon his return to UCR, he worked in the Department of Botany and Plant Sciences as a specialist in biology education, including the development and evaluation of new instructional media.
"Dr. Campbell was a friend to many and a generous supporter of the department, its staff, and its students," said Jodie Holt, professor and chair in the Department of Botany and Plant Sciences.
His publishing prowess and dedication to biology education added to UC Riverside's visibility and prestige, while making an impact in the field of biology education, added officials at the College of Natural and Agricultural Sciences at UC Riverside.
Dr. Campbell is perhaps best known internationally for his authorship of biology textbooks such as widely used "Biology," a text for biology majors, appearing in its seventh edition in December, which is co-authored with Jane Reece.
Since its introduction in 1987 an estimated 67 percent of all U.S. biological scientists, physicians, biology teachers and biotechnologists under the age of 37 have used "Biology" as their introductory text, according to the publishers, Pearson-Benjamin Cummings.
He is also lead author of three other texts for non-biology majors, "Biology: Concepts and Connections," "Essential Biology" and "Essential Biology with Physiology." For high school students, Dr. Campbell has developed "Biology: Exploring Life," a program that uses textbook, workbook, and Internet resources. Each year, more than 500,000 students worldwide use his textbooks. It is estimated that more than 4 million students worldwide have use "Biology." His textbooks have been translated into eight languages.
In 1995, Dr. Campbell co-founded Peregrine Publishers, creators of the "Biology Place," "The Chemistry Place" and "The Psychology Place" Web sites with start-up investment from Scientific American magazine. Peregrine has published more than 35,000 pages of interactive content on the three Web sites. Pearson Education acquired Peregrine in 1998. "The Biology Place" is currently used at more than 3,000 high schools and more than 800 colleges and universities.
Colleague Anthony Huang, a professor of plant cell and molecular biology in the Department of Botany and Plant Sciences underscored Dr. Campbell's impact on the field of biology and biology education.
"His books are so popular that last month, while I was in Taiwan for a seminar, I saw three different Chinese editions of his book," he said. "Wherever I go, when I mention I'm from Riverside, people ask me if I know Dr. Campbell."
His commitment to undergraduate education is reflected in the Campbell Biology Prize, which he has sponsored since 1991. The annual competition is open to undergraduates intending to teach biology at the high-school level. A $2,000 first-place scholarship is awarded to an outstanding undergraduate biology student. The scholarship also awards a $1,000 second-place prize and a third-place of $500. The competition is open to all undergraduate students at North American colleges and universities, and is not limited to students currently enrolled in introductory biology courses.
Dr. Campbell has been a generous benefactor to UCR earning the status of Blue & Gold Chancellor's Associate in 2000. Blue & Gold Chancellors Associates are donors who have given more than $10,000 to the university in a single year. In 2001, he was named UCR's Distinguished Alumnus, the highest distinction granted by the UCR Alumni Association.
He is survived by his wife, Rochelle Campbell of Redlands, daughter Allison Campbell of New York, NY, brother Ian Campbell of Reno, Nev., brother-in-law Jeff Arnold and family of Mentone, and mother-in-law Eva Arnold of Redlands.
A memorial Service will be held at UC Riverside at a later date.
In lieu of flowers, the family asks that contributions be made to the Neil Campbell Undergraduate Research Fund through the Office of Development, University of California, Riverside, Riverside, Calif. 92521. Checks should be made out to the UC Riverside Foundation and should be specified for the Neil Campbell Fund.
The University of California, Riverside (www.ucr.edu) is a doctoral research university, a living laboratory for groundbreaking exploration of issues critical to Inland Southern California, the state and communities around the world. Reflecting California's diverse culture, UCR's enrollment has exceeded 21,000 students. The campus opened a medical school in 2013 and has reached the heart of the Coachella Valley by way of the UCR Palm Desert Center. The campus has an annual statewide economic impact of more than $1 billion.
A broadcast studio with fiber cable to the AT&T Hollywood hub is available for live or taped interviews. UCR also has ISDN for radio interviews. To learn more, call (951) UCR-NEWS.