New Journal Debuts
---
Opolis: UC Riverside Development Center Debuts New Journal
First-of-its-kind Publication Focuses on the Suburbs
(November 3, 2004)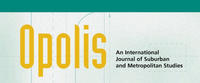 Enlarge
The cover of Opolis
RIVERSIDE, Calif. (www.ucr.edu) -- UC Riverside's Edward J. Blakely Center for Sustainable Suburban Development, in partnership with two other universities, has launched Opolis, a twice-yearly journal of suburban and metropolitan studies. The inaugural issue contains articles on older suburbs, the relative values of home improvements and Latinos' affinity for "smart growth" principles.
Opolis is the first academic journal to focus on the growing influence of suburbs worldwide, said managing editor Andy McCue. It combines research and policy analysis to explore the ways in which suburbs increasingly dominate development throughout the world.
"Around the world, the growth is taking place at the edge of cities, whether it's Beijing or Paris or Southern California," said McCue. "Yet, the study of suburbs has remained a kind of ugly step-child of urban studies. With this journal, and with the Blakely Center, we are focusing on the most dynamic area of growth. The journal will bring thoughtful analysis to the issues suburbs face, and the issues their growth raise for their regions."
More than half the population of the U.S. now lives in suburbs, and recent metropolitan growth in Europe, Australia and East Asia also has shifted dramatically. Many developing nations have experienced rapid suburban growth. Yet suburbia remains an under-researched topic, say Opolis co-editors, Edward J. Blakely of the University of Sydney in Australia and Robert E. Lang of Virginia Tech, in a letter to readers of the first issue.
Lang leads off the first issue with an article about home improvements, saying some work done on houses in suburban areas can actually reduce their value. Contributors Nancey Green Leigh and Sugie Lee, both of Georgia Tech, explore the outlook for older suburbs, which often decline as newer areas burgeon. Michael Mendez, senior aide to California Assemblywoman Cindy Montanez, outlines "Latino New Urbanism," writing that most Latino newcomers to California are bypassing big cities -- historically immigrants' first stop -- in favor of the suburbs. The final article, by Bill Randolph and Darren Holloway of the University of New South Wales, is a look at how suburbs in Australia, once bastions of the rich and white, are now more ethnically diverse and less affluent than they were years ago.
At the root of the journal's name is "polis," used by the ancient Greeks to denote a city-state. Familiar from "metropolis" or "megalopolis," the suffix is often employed to convey the quality of a city -- Manchester, England, was "Cottonopolis," and Cincinnati was "Porkopolis" -- but the journal's use of Opolis by itself, editors say, means to conveys "the ambiguous and elusive nature of current metropolitan development."
Opolis is a joint venture of the Edward J. Blakely Center for Sustainable Suburban Development at UCR, the Metropolitan Institute at Virginia Tech and the Urban Planning Department of the University of Sydney. It will be published twice a year, on paper and electronically.
All questions concerning subscriptions or general questions should be directed to Andy McCue, Managing Editor, Opolis, andy.mccue@ucr.edu, Center for Sustainable Suburban Development, B101 Highlander Hall, University of California, Riverside, Riverside, CA, 92521 USA. (951) 827-7830. More information is available at the Center website, http://cssd.ucr.edu.
The University of California, Riverside (www.ucr.edu) is a doctoral research university, a living laboratory for groundbreaking exploration of issues critical to Inland Southern California, the state and communities around the world. Reflecting California's diverse culture, UCR's enrollment has exceeded 21,000 students. The campus opened a medical school in 2013 and has reached the heart of the Coachella Valley by way of the UCR Palm Desert Center. The campus has an annual statewide economic impact of more than $1 billion.
A broadcast studio with fiber cable to the AT&T Hollywood hub is available for live or taped interviews. UCR also has ISDN for radio interviews. To learn more, call (951) UCR-NEWS.