Management School Dean Announces Initiatives
---
UCR Management School Dean Unveils Initiatives
Rajiv Banker Announces Dean's Leadership Council and Two Centers that Deepen Links With Business Community

(November 5, 2004)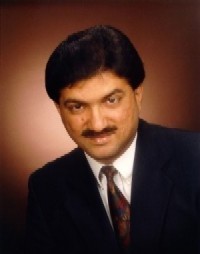 AGSM Dean, Rajiv Banker
RIVERSIDE, Calif. —
www.ucr.edu
— Rajiv Banker, dean of the A.Gary Anderson Graduate School of Management (AGSM) at the University of California, Riverside, today announced three initiatives designed to deepen the school's ties with the surrounding business community.
"To build an outstanding business school we must collaborate closely with businesses that surround us," said Banker. "The best way to learn about success in business is from the successful leaders who practice it."
One significant development is the formation of the Dean's Leadership Council, which will be chaired by Debbi Huffman Guthrie, president of Jim Guthrie Construction, of Riverside; and co-chaired by Ron Lossett, past president and chief executive officer of EPIC, LP., a physicians' practice management corporation based in Redlands.
Members serving on the Dean's Leadership Council will provide insight and guidance to Dean Banker as he develops new programs and improves existing programs to meet the needs of the region while providing students with a premier education in business and management. The Leadership Council was created to lead the efforts and initiatives of the AGSM by building partnerships with alumni, corporations, and individuals. Creating strong relationships will support the mission of the AGSM to prepare business students for success in a competitive global environment.
Business leaders, such as those on the Dean's Leadership Council, along with students and faculty will provide input to guide the development of specialty areas of study in the graduate school of management.
This collaboration between the AGSM and business leaders has resulted in the formation of two new centers, both announced today by Dean Banker. The first will be the Center for Banking and Financial Services. Banking executive Mike Vanderpool, most recently with City National Bank, will chair the advisory board for this Center.
The second center will be The Center for Asian American Business Studies. William Saito, president and chief executive officer of Riverside-based I/O Software, and a UCR alumnus, will chair the advisory board for this center.
The mission of the Center for Banking and Financial Services is to advance the understanding of financial services businesses through collaborative research and education programs between university faculty and executives and managers of financial institutions. This allows the best scholars and practitioners to become a mentorship team to students in both graduate and undergraduate programs. In addition, the center will organize symposia on contemporary issues such as economic forecasts, business in a global economy, and strategic leadership.
The mission of the Center for Asian American Business Studies is to be a premier center for interdisciplinary teaching and research in the management of businesses that span Asia and America. The center will promote the exchange of ideas and knowledge about business practices that foster effective management strategies in areas such as transnational finance, production, distribution, marketing and trade. The center will collaborate with financial organizations on executive education focused on best practices for doing business spanning the U.S. and Asia. The center will also analyze business issues from political, social, economic and cultural perspectives and disseminate this knowledge through its teaching and research programs.
Banker's vision includes more centers with different focus areas that will be identified with further input from business leaders and AGSM alumni. Such close relationships are expected to further elevate the prestige of the AGSM and the business community in the Inland Empire and provide a rich environment for top-quality business education designed for highly motivated students.
"We plan to provide a promising and well-trained workforce to businesses in the Inland Empire," Banker said. "The business climate forged by these collaborative initiatives will help attract additional global, financial and high technology businesses to the region."

Dean's Leadership Council Members

Chair, Debbi Huffman Guthrie, Jim Guthrie Construction


Ron Lossett, Co-Chair, retired


Barbara Robinson, Bank of America


Craig Blunden, Provident Savings Bank


Jim Robinson banking executive


William Saito, I/O Software, Inc.


Peter Barmack, Best, Best & Krieger


Richard Heckman, K-2, Inc.


Cindy Roth, Greater Riverside Chamber of Commerce


Erik Anderson, Anderson Financial


Center for Asian American Business Studies Advisory Board Members

Chair, William Saito, I/O Software, Inc.


Candace Hunter Wiest, Inland Empire National Bank


Gary Liaou, Lucky Farm


Daryl Lee, University Cafe


Akshaya (Ash) Sheth, Eagle Strategies Corporation


Julie Zheng, Starbright Oriental Investment Group U.S.A.


Dr. Roger & Karen Cheng


Peter & Peggy Chen, Ruby Metals


Frank Chen


John & Gina Yeh, American Lighting


Dalip Singh Sethi, Singh Chevrolet


Center for Banking & Financial Services Advisory Board Members

Chair, Mike Vanderpool, banking executive


Milton Knox, Provident Savings Bank


Breck Fleming, City National Bank


Mark Hawkins, Altura Credit Union


Robert Lancaster, Talbot Insurance & Financial Services


Joseph P. Barr, Swenson Corporation


The University of California, Riverside (www.ucr.edu) is a doctoral research university, a living laboratory for groundbreaking exploration of issues critical to Inland Southern California, the state and communities around the world. Reflecting California's diverse culture, UCR's enrollment has exceeded 21,000 students. The campus opened a medical school in 2013 and has reached the heart of the Coachella Valley by way of the UCR Palm Desert Center. The campus has an annual statewide economic impact of more than $1 billion.
A broadcast studio with fiber cable to the AT&T Hollywood hub is available for live or taped interviews. UCR also has ISDN for radio interviews. To learn more, call (951) UCR-NEWS.