How do People Impact the Environment?
---
A $2 Million National Science Foundation Grant Brings Technology and Biology Together at UC Riverside
UC Riverside Captured Three Large NSF Grants to Study Human Impact on the Environment


(November 15, 2004)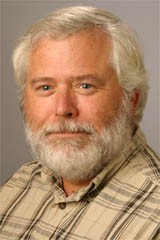 Michael F. Allen
RIVERSIDE, Calif. (www.ucr.edu) — Monitors that can sense too much fertilizer in a running river and tiny sensors that warn when a plant is starving are among the possible future breakthroughs to be pioneered by a new $2 million National Science Foundation project at UC Riverside.
Michael Allen, Director of the Center for Conservation Biology and Chair of the Department of Plant Pathology, is the lead investigator on a five-year biocomplexity project designed to develop the kinds of instruments that can monitor the soil environment in real time, rather than in laboratory recreations. He will work with James Borneman, a professor of plant pathology at UCR; Botany Professor Edith Allen; Mike Hamilton, director of the James Reserve in the San Jacinto Mountains, and Tom Harmon, a professor from UC Merced.
This is the third UC Riverside project to receive funding this year from the National Science Foundation's program on "biocomplexity," or the impact of human activity on complex biological systems. The projects, all earned by faculty members affiliated with UCR's Center for Conservation Biology, will bring a total of $5.5 million for research to UCR over the next several years.
• In August, Prof. Norman Ellstrand earned a $1.5 million grant to study the impacts of plant genomics on the environment, an issue at the heart of the controversy over genetically modified foods.
http://www.newsroom.ucr.edu/cgi-bin/display.cgi?id=869
• In September, Prof. Edith Allen earned a $2 million grant to study the impact of excess nitrogen from air pollution on the plant world.
http://www.newsroom.ucr.edu/cgi-bin/display.cgi?id=890
• Now Professor Mike Allen is leading a team to use technology to monitor agricultural impacts on the environment.
"Our project will develop technologies that monitor all aspects of the soil environment simultaneously, from fungal and root growth to nutrients, in the field," said Mike Allen. "Currently we are required to study these processes in the laboratory and extrapolate to the real world."
The next step, Allen said, is to design new instruments, and make existing instruments smaller and cheaper, so researchers can monitor actual soil processes related to California agriculture. The idea is to get the right results for agriculture, without harming the environment. For instance, studying actual field conditions will help determine the best management practices to keep nitrates from fertilizers out of the ground water supply, and to reduce concentrations of greenhouse gases in the atmosphere.
"Sensor technology will change the way we do environmental science and change the way we answer questions about what's good for us and what's bad for us, and how good and how bad," said Tom Harmon, a professor at UC Merced. "It is a very exciting time for us."
Technology to monitor the natural environment is already in place at the James Reserve, which is administered by UC Riverside. The technology at the James Reserve will be highlighted on UCTV in a 30-minute program at 7 p.m., Tuesday, Nov. 23. The James Reserve is at the forefront of an effort to use high technology to gain insight into the natural world. Embedded cameras monitor the nesting cycles of birds, sensor networks track weather data on habitat microclimates and computers map out the potential damage from wildfires. This program will be shown at other dates and times during the month. Find out more at www.uctv.tv/search-details.asp?showID=8384
UCTV is available on Charter Communications digital channel 95, the EchoStar DISH Network, Nationwide channel 9412, and on the Internet at www.uctv.tv.
Other related projects include the Center for Embedded Networked Sensing (CENS), a National Science Foundation (NSF) Science and Technology Center based at UCLA, and the Networked Infomechanical Systems (NIMS), another NSF project. These programs combine the resources of several top research universities to engineer new sensors for above-ground dynamics and the means to gather, exchange, transfer, and analyze data wirelessly.
The University of California, Riverside (www.ucr.edu) is a doctoral research university, a living laboratory for groundbreaking exploration of issues critical to Inland Southern California, the state and communities around the world. Reflecting California's diverse culture, UCR's enrollment has exceeded 21,000 students. The campus opened a medical school in 2013 and has reached the heart of the Coachella Valley by way of the UCR Palm Desert Center. The campus has an annual statewide economic impact of more than $1 billion.
A broadcast studio with fiber cable to the AT&T Hollywood hub is available for live or taped interviews. UCR also has ISDN for radio interviews. To learn more, call (951) UCR-NEWS.