Working to Ease Poverty in Brazil
---
UCR-led Effort to Aid Poor in Brazil Earns $400,000 Grant
Economics Professor Heads Team Seeking Pathways from Rural Poverty
(November 17, 2004)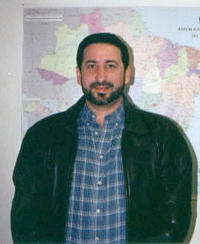 Enlarge
Steven Helfand
RIVERSIDE, Calif. (www.ucr.edu) -- An international team led by a UC Riverside economics professor will use a $400,000 federal grant to seek ways to reduce poverty and hunger among rural Brazilians.
Associate Professor Steven M. Helfand was the catalyst for the two-year project, and assembled a team of Brazilian researchers. Helfand chairs the Latin American Studies program at UCR.
The project was funded by the U.S. Agency for International Development (USAID) after a competitive grant competition. Projects from Princeton University and UC Berkeley were selected to study similar issues in other parts of the world.
"Brazil has a new government that is committed to reducing poverty," Helfand said. "Our argument is that they don't have the information they need to succeed. So we are trying to provide the information and analysis that will allow them to be more successful."
The project, titled "Regional Diversity in Pathways out of Rural Poverty in Brazil: Implications for the Design of Public Policies," will combine data collected by agencies in Brazil with several layers of new studies, Helfand said. The goal is to use the team's combined expertise and a variety of methodological approaches to explore many ways of addressing problems caused by poverty.
Most members of the team are in Brazil. Three, including the project's other co-director, Eustaquio J. Reis, work for the Institute of Applied Economic Research in Rio de Janeiro. Others are from the National School of Statistics and the Pontifical Catholic University, both in Rio, and the University of Sao Paulo. Researchers from UC Riverside and Queens College round out the team, Helfand said.
The team will emphasize several possible "pathways" out of poverty over the course of its work, including increased productivity for small farms; more non-agricultural jobs in rural areas; government-funded social programs; land, credit and labor-market reforms; and migration out of rural areas.
Finding out what kinds of solutions work best in different areas of the vast nation will be a big boost for the Brazilian government, which now has no mechanism in place for thorough nationwide studies of rural poverty, Helfand said.
Rural poverty in Brazil is pervasive. Roughly half of the rural population was living in poverty at the beginning of the century, according to government estimates, with half of those in extreme poverty. Also, rural poverty rates vary widely across regions.
Some recent studies say that things improved in the 1990s for rural dwellers, but Helfand said there is reason to doubt the extent of the improvement, and that its causes and effects are not well understood.
Knowing more about the problems in Brazil and seeing that knowledge applied in a systematic way will help researchers find answers for other poverty-stricken areas throughout Latin America, Helfand said.
"It's about coming up with strategies for reducing poverty all around the world," he said.
The University of California, Riverside (www.ucr.edu) is a doctoral research university, a living laboratory for groundbreaking exploration of issues critical to Inland Southern California, the state and communities around the world. Reflecting California's diverse culture, UCR's enrollment has exceeded 21,000 students. The campus opened a medical school in 2013 and has reached the heart of the Coachella Valley by way of the UCR Palm Desert Center. The campus has an annual statewide economic impact of more than $1 billion.
A broadcast studio with fiber cable to the AT&T Hollywood hub is available for live or taped interviews. UCR also has ISDN for radio interviews. To learn more, call (951) UCR-NEWS.