P2P Technology Still Humming Despite Lawsuits
---
P2P Technology Still Going Strong Despite Lawsuits, Fines
(December 3, 2004)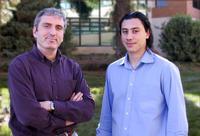 Engineering professor Michalis Faloutsos worked with UC Riverside graduate student Thomas Karagiannis on P2P research.
The threat of copyright lawsuits and large fines has apparently not been enough to deter computer users from illegally sharing music, movie and other digital files through the use of peer-to-peer (P2P) networking.
That is the finding of UC Riverside graduate student Thomas Karagiannis, who co-authored a paper "Is P2P Dying or just Hiding?" Karagiannis worked on the two-year project with UCR Computer Science and Engineering professor Michalis Faloutsos, and Andre Broido, Nevil Brownlee and kc claffy from the CAIDA institute at the University of California at San Diego.
Their objective was to determine the validity of claims that music file sharing dropped by as much as 50 percent when, in September 2003, the Recording Industry Association of America (RIAA) filed the first of thousands of lawsuits that targeted individuals who illegally offered copyright music through P2P networks. These networks allow users to quickly and without cost, share movie, music and other digital files located on their individual PCs with other network users.
"We find that, if measured accurately, P2P traffic has never declined; indeed we have never seen the proportion of P2P traffic decrease over time in any of our data sources," wrote Karagiannis, in a paper that he presented at the IEEE Globecom 2004 conference, which was held Nov. 29 through Dec. 3 in Dallas.
During the two-year study, Karagiannis and his cohorts looked closely at data that had been provided by major Internet service providers in August 2002, May 2003 and January 2004. By carefully decoding the bit sequences in the data, they sought to determine the percentage of total P2P traffic and how that compared to pre-RIAA lawsuit traffic.
There was no decrease, said Karagiannis. In some instances, there was a slight increase.
"P2P traffic represents a significant amount of Internet traffic and is likely to continue to grow in the future, RIAA behavior notwithstanding," he wrote in the paper.
This study is more all-inclusive than other similar studies because it looked at eight — as opposed to one or two — of the most popular P2P applications, said Karagiannis. In addition, they were able to identify traffic to P2P networks that had intentionally attempted to mask traffic through the use non-standard port numbers and other sophisticated technology.
The RIAA continues to file lawsuits against individuals. In addition, officials from the Motion Picture Association of America announced that they had filed the first of many lawsuits targeting computer users who share digital movies via P2P networks.
Karagiannis feels his study shows that P2P is here to stay and that these industries would be better off trying to find ways to provide affordable and convenient alternatives that would allow computer users to download their products legally.
The University of California, Riverside (www.ucr.edu) is a doctoral research university, a living laboratory for groundbreaking exploration of issues critical to Inland Southern California, the state and communities around the world. Reflecting California's diverse culture, UCR's enrollment has exceeded 21,000 students. The campus opened a medical school in 2013 and has reached the heart of the Coachella Valley by way of the UCR Palm Desert Center. The campus has an annual statewide economic impact of more than $1 billion.
A broadcast studio with fiber cable to the AT&T Hollywood hub is available for live or taped interviews. UCR also has ISDN for radio interviews. To learn more, call (951) UCR-NEWS.