Price Promotions, Who Wins, Who Loses
---
Price Promotions, Who Wins, Who Loses, and Why?
UCR Professor Studies What Works, What Doesn't, to Maximize Marketing Investments By CEOs
(December 7, 2004)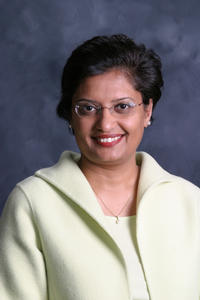 Shuba Srinivasan
RIVERSIDE, Calif. —
www.ucr.edu
— So who makes out in the yearly blizzard of holiday price promotions for everything from high-definition, flat-screen TVs to store-brand dental floss?
The benefits differ for manufacturers, retailers and consumers, says Assistant Professor of Marketing
Shuba Srinivasan
, of the A. Gary Anderson Graduate School of Management at the University of California, Riverside. Overall, the greater the price promotions activity, the better it is for consumers, she found. However, when it comes to the impact of price promotions on manufacturers' and retailers' bottom lines, the results are not nearly as encouraging.
Dr. Srinivasan is in the midst of completing a trio of research papers examining whether price promotions benefit manufacturer versus retailers, who wins when store brands are introduced in a retail chain, and the impact the factors that drive retail prices have on profitability. Her aim is to give CEOs and CFOs useful tools to scrutinize the conditions under which price promotions make money, and allocate their scarce marketing dollars accordingly.
In her first paper of the series, titled
"Do Promotions Benefit Manufacturers, Retailers or Both?"
Srinivasan, with colleagues Koen Pauwels of Dartmouth College, Dominique Hanssens of UCLA, and Marnik Dekimpe of Erasmus University in Rotterdam, the Netherlands, found that neither manufacturers nor retailers benefit from price promotions in the long run. Therefore both should approach promotional planning tactically rather than strategically.
Srinivasan explains: "Each promotion should be financially viable on its own, as it cannot be counted on to increase the long-term market strength of a manufacturer or retailer."
The paper, which examined seven years of data for 25 different product categories, was published in the journal
Management Science
in May and summarized in the
Harvard Business Review
. As a practical matter, manufacturers tended to increase sales and revenues, whereas the results for retailers were mixed, according to the paper.
"We found that retailers often lost revenue from non-promotional items during a price promotion," Srinivasan said. "For example, when there is a promotion for Coke, a retailer can lose revenue when loyal Pepsi buyers temporarily switch to the cheaper brand. Promotions also intensify competitive reactions, often leading to price wars."
The second paper titled,
"Who Benefits From Store Brand Entry?
coauthored with Koen Pauwels, looked at how the introduction of store brands, such as Rite-Aid aspirin as opposed to national brands such as Bayer aspirin, affects manufacturers, retailers and consumers. The paper, examining seven years of data in five product categories, appeared in the summer edition of Marketing Science.
Overall, the impact of introducing store-brands is beneficial to premium brand manufacturers but negative for the makers of economy brands, the paper found. For retailers, store brands provide leverage in negotiating with manufacturers and offer retailers two beneficial effects.
"For the most part, store brands offer increased unit profit margins because they are cheaper and usually don't incur promotional costs," said Srinivasan. "They also increase retailer unit [profit] margins on national brands due to incentives offered by manufacturers to recover market share."
The study suggested that introducing a store brand that competes head-to-head with second-tier national brands improves the retailers' bargaining position. Consumers also benefit from greater product assortment and from lower average prices.
In the third paper, Srinivasan teams up with Koen Pauwels and Vincent Nijs at Northwestern University to examine what drives prices and to understand how retailers make pricing decisions from week-to-week. As the title
"Retail Price Drivers and their Financial Consequences"
suggests, the paper's objective was to understand the financial impact of pricing decisions, and their underlying drivers for manufacturers, retailers and consumers. The paper looked at more than 13,000 combinations of brands and stores.
Surprisingly, retailer competition was a minor factor over time, according to the paper, compared to pricing history, costs, and demand response.
"Different price drivers have different impacts on profitability," Srinivasan said. "For instance, demand-based pricing has a positive impact on profitability because it is a dynamic response to what will sell, but pricing that just looks at what was done in the past tended to have a negative impact on profitability because it may continue a pattern that cuts into profit margins."
Next for Srinivasan is a three-part stream of research that looks at how Wall Street and stock markets react to price promotions and new product introductions. In that series, she uses data from the big six manufacturers in the automobile industry, General Motors, Ford, Daimler-Chrysler, Honda, Toyota, and Nissan.
RELATED LINKS
ADDITIONAL CONTACTS
The University of California, Riverside (www.ucr.edu) is a doctoral research university, a living laboratory for groundbreaking exploration of issues critical to Inland Southern California, the state and communities around the world. Reflecting California's diverse culture, UCR's enrollment has exceeded 21,000 students. The campus opened a medical school in 2013 and has reached the heart of the Coachella Valley by way of the UCR Palm Desert Center. The campus has an annual statewide economic impact of more than $1 billion.
A broadcast studio with fiber cable to the AT&T Hollywood hub is available for live or taped interviews. UCR also has ISDN for radio interviews. To learn more, call (951) UCR-NEWS.