UCR Takes Next Step on Medical School
---
UC Riverside Selects Consultant on Health Sciences Initiative
Robert Grey, former UC Davis Provost, Will Help Advise Campus on Expanding Two-Year Biomedical Sciences Program Into Four-Year Medical School

(January 11, 2005)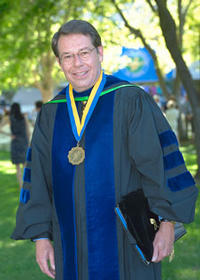 Robert Grey, photo courtesy UC Davis
RIVERSIDE, Calif. (www.ucr.edu) -- Robert Grey, a former Provost and Executive Vice Chancellor at UC Davis, has been appointed as a consultant to help UC Riverside expand its two-year biomedical sciences program into a four-year medical school.
Grey will serve part-time to advise campus leaders and faculty members investigating what kind of medical school is best suited to the Inland Empire. His title will be Executive Assistant to the Chancellor for Health Affairs.
"I am thrilled that Bob Grey has accepted our offer to help us plan for a medical school and health sciences research institute, both of which will build on the accomplishments in education and research of the UCR faculty," said Chancellor France A. Córdova.
"As a former UC executive vice chancellor and provost with purview over one of UC's prestigious medical schools, Bob Grey brings the perfect background to this position," said Córdova. "His deep knowledge about UC's administration, his understanding of what it takes to implement all the facets of medical education, and his experience working closely with faculty, staff, and the community, should position us well to accomplish our goals."
Grey, 65, said he was looking forward to the task ahead, to design a medical school that takes advantage of UC Riverside's current academic strengths. He will spend, on average, two days a week on the Riverside campus.
"We are not looking for a cookie-cutter project, but are seeking to develop a nationally distinguished School of Medicine that best serves the state and especially the needs of the Inland Empire," Grey said.
Some of his goals include:
• Develop strategy, and estimate budget needs at various stages of development, for expanding the UCR/UCLA Thomas Haider Program in Biomedical Sciences into a four-year medical school.
• Conduct negotiations with area hospitals and develop model contracts to start residency programs and "rotations" in the Riverside /San Bernardino/
Coachella Valley areas.
• Explore funding opportunities to support the envisioned medical education and health research programs.
• Develop a plan to increase the present size of the program in biomedical sciences in 2007 or 2008, working in collaboration with UCLA medical education administrators.
• Coordinate with campus efforts to develop a Health Sciences Research Institute.
• Assist in developing a vision for a new kind of medical education, using web-based instruction, interdisciplinary modules, and other novel teaching techniques. This may include inviting prominent deans of medical schools to give lectures on vision for medical delivery of the future.
• Convene the Blue Ribbon Committee and other appropriate groups to insure broad consultation with stakeholders.
In November, 2003, Chancellor Córdova launched the Health Sciences Initiative by appointing a seven-member Blue Ribbon Panel. In addition, UC Riverside has established two other groups: The Chancellor's Community Forum on Health Care Initiatives consists of a broad base of the region's leading physicians, healthcare administrators, elected officials and community leaders. The other group is a forum of more than 70 key senior UC Riverside faculty representing a cross section of disciplines.
Grey served eight years as the chief academic and financial officer at UC Davis and as the chief governance official for the UC Davis Medical Center, before leaving in 2001. Before that, he was the founding dean of the Division of Biological Sciences at UC Davis.
His research field is cellular and molecular biology, and he was a member of the UC Davis faculty starting in 1967. Grey graduated from Phillips University in Oklahoma and received his doctoral degree from Washington University in St. Louis, where he taught and conducted research before joining UC Davis. Grey has also served as consultant for a number of universities on academic issues and has served on numerous advisory boards and committees.
Grey has received many awards, including the Distinguished Teaching Award of the Davis Division of the Academic Senate, the Magnar Ronning Award for Teaching Excellence and a distinguished alumnus award from Phillips University. He is a member of the American Society for Developmental Biology, the American Society for Cell Biology, the American Association for the Advancement of Science and the Sigma Xi and Phi Sigma honorary societies.
The University of California, Riverside (www.ucr.edu) is a doctoral research university, a living laboratory for groundbreaking exploration of issues critical to Inland Southern California, the state and communities around the world. Reflecting California's diverse culture, UCR's enrollment has exceeded 21,000 students. The campus opened a medical school in 2013 and has reached the heart of the Coachella Valley by way of the UCR Palm Desert Center. The campus has an annual statewide economic impact of more than $1 billion.
A broadcast studio with fiber cable to the AT&T Hollywood hub is available for live or taped interviews. UCR also has ISDN for radio interviews. To learn more, call (951) UCR-NEWS.