Writers Week Set for Feb. 8-12
---
UC Riverside to Hold 28th Annual Writers Week Feb. 8-12
Fiction Authors, Poets, Nonfiction Writers to Read on Campus and in Community
(February 4, 2005)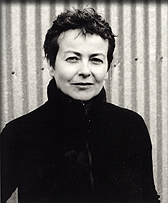 Judith Freeman, photo by Anthony Hernandez
RIVERSIDE, Calif. (www.ucr.edu) -- UC Riverside's 28th annual Writers Week will bring 13 prominent scribes from a variety of genres to read their work on campus and in the community Feb. 8 through 12.
Prose poetry, fiction, nonfiction writing and poetry will each occupy a day of the on-campus readings, said Writers Week organizer Michael Jayme, an assistant professor in UCR's Creative Writing department, who writes fiction and poetry under the surname Jaime-Becerra. All readings are free and open to the public, although there is typically a fee for parking.
Novelist Judith Freeman, author of "Red Water" will present the keynote reading at 7:30 p.m. Friday, Feb. 11. Program elements new this year include a panel at 7 p.m. Tuesday that will put this year's featured prose poets in conversation with UCR creative writing Professor Chris Buckley, and at 3 p.m. Wednesday, Feb. 12, a visit from Davy Rothbart, creator of Found magazine, which focuses on items literally found on the ground.
"This year's schedule, like those of years past, promises to be filled with thought-provoking, poignant and entertaining work," Jayme said. "We hope that the community will come take advantage of the wealth of ideas that will fill Writers Week."
Most reading sessions will take place in the Humanities and Social Sciences Building, Room 1500. The keynote reading will be in the same building but in Room 1501. One fiction reading session will be off-campus, at the Riverside Public Library. All sessions are free and open to the public.
Opening day, Tuesday, Feb. 8, is devoted to prose poetry, a genre in which writers mix techniques to spark stories that sing and poems in paragraphs; works that owe their impact to both narrative and lyricism.
1 to 2 p.m. — Gary Young, a poet and artist whose books include "Hands," "The Dream of a Moral Life," which won the James D. Phelan Award, "Days," "Braver Deeds," winner of the Peregrine Smith Poetry Prize, and "No Other Life," which won the William Carlos Williams Award of the Poetry Society of America.
Young co-edited "The Geography of Home: California's Poetry of Place," and has produced a series of art books, most notably "Nine Days: New York," "A Throw of the Dice" and "My Place Here Below." Young's poems have appeared in such magazines as Poetry, Antaeus, The American Poetry Review, The Kenyon Review and The Nation. His print work can be found in numerous collections, including those of the Museum of Modern Art and The Getty Center for the Arts, and in special collection libraries throughout the country. He lives with his wife and sons in the mountains north of Santa Cruz, California.
2:30 to 3 p.m. -- Morton Marcus, who was the 1999 Santa Cruz County Artist of the Year. Marcus has published nine volumes of poetry and one novel, including "The Santa Cruz Mountain Poems," "Pages From a Scrapbook of Immigrants," "When People Could Fly" and most recently "Moments Without Names: New & Selected Prose Poems" and "Shouting Down The Silence: Verse Poems 1988-2001." He has published more than four hundred poems in literary journals, and his work can be found in 80 poetry anthologies in the United States, Europe and Australia, including "The Geography of Home: California's Poetry of Place" and "No Boundaries: Prose Poems by 24 American Poets."
4 to 5 p.m. — Killarney Clary, whose books of poetry include "By Common Salt" and "Who Whispered Near Me" and a chapbook, "By Me, By Any, Can and Can't Be Done." Clary's most recent collection of poems, "Potential Stranger," was published by the University of Chicago. She lives in Los Angeles.
On Wednesday, Feb. 9, the focus will be nonfiction writing.
1 to 2:30 p.m. — Meri Nana-Ama Danquah, author of the memoir "Willow Weep for Me: A Black Woman's Journey Through Depression" and editor of two anthologies: "Becoming American: Personal Essays by First Generation Immigrant Women" and "Shaking the Tree: A Collection of New Fiction and Memoir by Black Women." A poet and journalist born in Accra, Ghana, Danquah's work has been featured in The Washington Post, the Los Angeles Times, The Village Voice, Essence and other publications. Her essays have been widely anthologized and her commentaries can be heard regularly on National Public Radio. Danquah has received numerous awards and has been honored by the California Black Women's Health Project and the California Arts Council, among others. A memoir is forthcoming, as well as a young adult novel. She teaches creative writing at the University of Ghana, in Accra, where she now lives.
3 to 4 p.m. — A presentation by Davy Rothbart, creator of Found magazine, which has been praised by publications as diverse as Spin, GQ, The New Yorker, the Los Angeles Times and U.S. News & World Report. A graduate of the University of Michigan, Rothbart is a regular contributor to National Public Radio's "This American Life," a documentary filmmaker and the author of the story collection "The Lone Surfer of Montana, Kansas." He lives in Ann Arbor, Michigan.
5 to 6:30 p.m. — David L. Ulin, author of "The Myth of Solid Ground: Earthquakes, Prediction, and the Fault Line Between Reason and Faith." Ulin edited "Another City: Writing from Los Angeles," chosen by the Los Angeles Times Book Review as a Best Book of 2001, and "Writing Los Angeles: A Literary Anthology," which received a California Book Award and was selected by the Los Angeles Times Book Review as a Best of the Best for 2002. His essays and criticism have appeared in The Atlantic Monthly, The Nation, The New York Times Book Review, LA Weekly, the Los Angeles Times and on National Public Radio's "All Things Considered." He teaches in the MFA in Creative Writing program at Antioch University, Los Angeles.
On Thursday, Feb. 10, Writers Week will emphasize poetry.
1 to 2:30 p.m. — Tony Barnstone, associate professor of English at Whittier College, author of a book of poetry, "Impure" and a chapbook of poems, "Naked Magic." Barnstone has edited and translated several books of Chinese poetry and prose, including "Out of the Howling Storm: The New Chinese Poetry," "Laughing Lost in the Mountains: Selected Poems of Wang Wei" and "The Art of Writing: Teachings of the Chinese Masters." His forthcoming books are "The Anchor Book of Chinese Poetry" and a book of 100 sonnets titled "He Murders His Darlings." He has won many state and national poetry awards and his work has been published in dozens of literary journals.
3 to 4:30 p.m. -- Michael Collier, author of four books of poems: "The Clasp and Other Poems," "The Folded Heart," "The Neighbor" and, most recently, "The Ledge," which was a finalist for the National Book Critics Circle Award and the Los Angeles Times Book Prize. Collier has received Guggenheim, National Endowment for the Arts, and Thomas Watson fellowships and a "Discovery"/The Nation Award, among others. Collier has taught at Yale and The Johns Hopkins universities and is currently a professor of English at the University of Maryland. He is the director of the Bread Loaf Writers' Conference and former Poet Laureate of Maryland.
5 to 6:30 p.m. — Marilyn Chin, author of "Dwarf Bamboo," "The Phoenix Gone," "The Terrace Empty" and "Rhapsody in Plain Yellow." Chin's books have become Asian-American classics and are taught in classrooms internationally. She has won numerous awards for her poetry, including the Radcliffe Institute Fellowship at Harvard (University?), the PEN/Josephine Miles Award, and four Pushcart Prizes. Her work is featured in numerous anthologies, including "The Norton Anthology of Modern and Contemporary Poetry" and "The Oxford Anthology of Modern American Poetry." She was featured in Bill Moyers' PBS series "The Language of Life." Recently, she taught at the Iowa Writers' Workshop and has been a guest poet at various universities worldwide. She is writing a book of poetic tales and co-directs the MFA program at San Diego State University.
Fiction is Writers Week's focus on Friday, Feb. 11, and Saturday, Feb. 12.
1 to 2:30 p.m. Feb. 11 — Bret Anthony Johnston, whose work has been featured in The Paris Review and Open City, as well as many anthologies, including "New Stories from the South: The Year's Best," "Prize Stories: The O. Henry Prize Stories" and Scribner's "Best of the Fiction Workshops." A graduate of the Iowa Writers' Workshop, Johnston also holds degrees from Texas A&M and Miami universities. His work has been lauded by The Atlantic Monthly, and garnered Shenandoah's Jeanne Goodheart Prize for best story of the year and two short fiction honors from the Texas Institute of Letters. Johnston's current book is "Corpus Christi: Stories." A skateboarder for more than 15 years, he teaches creative writing at California State University, San Bernardino.
3 to 4:30 p.m. Feb. 11 -- Michelle Huneven, author of "Round Rock," a New York Times notable book of the year, one of the Los Angeles Times' best 100 books of the year and a finalist for the Los Angeles Times First Fiction Award.
Her second novel, "Jamesland," was also a New York Times notable book, as well as a Book Sense pick, a finalist for the Los Angeles Times Fiction Prize and winner of the Southern California Booksellers Award for Fiction. She also received a Whiting Award for Fiction in 2002. Huneven is a restaurant critic and contributing editor at the LA Weekly; her journalism work has appeared in The New York Times, O, Food and Wine, and Gourmet, and has earned her numerous awards. A graduate of the Iowa Writers' Workshop, Huneven has taught creative writing and literature at USC, UC Santa Barbara and in the Antioch MFA program. She lives in the town she grew up in, Altadena, where she is at work on her next novel, "The Memory Consultant."
7:30 to 9 p.m. Feb. 11 — Fiction writer Judith Freeman will give the Writers Week keynote reading in Room 1501 of the Humanities and Social Sciences Building. Freeman is the author of a collection of short stories and four novels, which include "The Chinchilla Farm," "Set For Life," "A Desert of Pure Feeling" and "Red Water." She has been a Guggenheim Fellow in fiction and winner of the Western Heritage Award. Throughout her career she has worked as a book critic for the Los Angeles Times as well as an essayist and visiting writer at various conferences and literary festivals.
3 p.m. Saturday — Johnston and another fiction writer, Daniel Olivas, will read at the Riverside Public Library, 3851 Mission Inn Ave. Olivas wrote "Devil Talk: Stories," "Assumption and Other Stories" and "The Courtship of María Rivera Peña." His first children's book, "Benjamin and the Word," will be published in the spring. He also is a lawyer for the state Department of Justice, and lives in the San Fernando Valley with his wife and son.
RELATED LINKS
ADDITIONAL CONTACTS
The University of California, Riverside (www.ucr.edu) is a doctoral research university, a living laboratory for groundbreaking exploration of issues critical to Inland Southern California, the state and communities around the world. Reflecting California's diverse culture, UCR's enrollment has exceeded 21,000 students. The campus opened a medical school in 2013 and has reached the heart of the Coachella Valley by way of the UCR Palm Desert Center. The campus has an annual statewide economic impact of more than $1 billion.
A broadcast studio with fiber cable to the AT&T Hollywood hub is available for live or taped interviews. UCR also has ISDN for radio interviews. To learn more, call (951) UCR-NEWS.