Chisholm Documentary Has UCR Roots
---
UC Riverside Graduate Directs Documentary on Shirley Chisholm
"CHISHOLM '72 — Unbought & Unbossed" to air
on the award-winning P.O.V. series
Saturday, February 12 at 9 p.m. on PBS/KCET, during Black History Month

(February 4, 2005)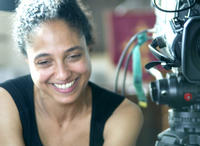 Enlarge
Shola Lynch on location in Barbados. Photo credit Sandi Sissel for POV
RIVERSIDE, Calif. (www.ucr.edu) — The work of University of California, Riverside graduate Shola Lynch will be broadcast at 9 p.m., Saturday, Feb. 12, on PBS' "P.O.V." series. The television documentary recalls the groundbreaking Presidential bid of Shirley Chisholm, the first African-American woman to run for president.
CHISHOLM '72 — Unbought & Unbossed, makes its television debut on "P.O.V.", American television's longest-running independent documentary series. It was also shown last year at the 2004 Sundance Film Festival.
Announcing Chisholm's candidacy for president on the evening news, Walter Cronkite quipped, "A new hat — rather, a bonnet — was tossed into the presidential race today." But this first-ever run by a woman and person of color for presidential nomination was no laughing matter. Nor was it a polite exercise in symbolic electioneering. The New York Democratic representative's bid engendered strong, and sometimes bigoted opposition, setting off currents that affect American politics and social perceptions to this day.
Shirley Chisholm died at the age of 80 on Jan. 1, 2005, at her home in Florida.
Featuring stirring archival footage, period music, interviews with supporters, opponents and observers, and Chisholm's own commentary — then and now — CHISHOLM '72 is a remarkable recollection of a campaign that broke new ground in politics, and truly reached out to 'the people.' Among those interviewed are author/activist Amiri Baraka (then known as LeRoi Jones), Black Panther founder Bobby Seale, authors Susan Brownmiller and Octavia Butler, former Reps., the Rev. Walter Fauntroy and Ronald Dellums, Rep. Barbara Lee (D-CA), who got her start in politics with Chisholm's campaign, and journalist/historian Paula Giddings.
"I had something important to explain," recalls Chisholm in the documentary. "I ran because somebody had to do it first. I ran because most people thought the country was not ready for a black candidate, not ready for a woman candidate. Someday — it was time in 1972 to make that someday come."
Lynch, director and co-producer, worked several years on the project, her directorial debut. "Our goal was to make a documentary as passionate and powerful as Chisholm herself," she said. "Her story is an important reminder of the power of a dedicated individual to make a difference." It also reminds us that the country belongs to each of us only if we dare to claim our place in it.
Lynch previously worked with Ken Burns and Florentine Films on the Peabody Award-winning Frank Lloyd Wright and the ten-part JAZZ series. She has also worked on the Emmy Award-winning "Do You Believe in Miracles? The Story of the 1980 US Olympic Hockey Team," an HBO Sports documentary that was included in the last hour of the four-part series on race in America, "Matters of Race," which aired on PBS in 2003.
Lynch grew up in New York City, where she currently lives. A nationally ranked track athlete in the 800m and 1500m, she did her undergraduate work at the University of Texas before earning a master's degree in American history from UC Riverside in 1995. Her thesis was an exhibition at the UCR/California Museum of Photography titled "How Far Have We Come? Past and Present Images of African Americans." She is currently developing her next documentary project.
"I had a great experience at UCR," Lynch said. "I wanted to be a museum curator and I had three professors who were influential, Sterling Stuckey, Carlos Cortes, and Jonathan Green, who is the director of the UCR/CMP."
She said Professor Stuckey held her to a high standard of scholarship. Prof. Cortes was a stickler for explaining things well, and also told a funny story on himself about his own experience with documentary film-making.
"And Jonathan Green, I pitched him an idea for a photo exhibition. He said, 'okay, if you can raise the money.' I did it and the show turned out so well. Making a film is exactly the same," Lynch said. "You have the idea, raise the money and implement the idea."
"I learned so much and it was completely applicable to documentary film-making."
Funding for the Chisholm documentary was provided by the Corporation for Public Broadcasting, a private corporation funded by the American people. Additional Funding Provided by New York State Council on the Arts, Paul Robeson Fund for Independent Media, Lucia Woods Lindley, Rubin Foundation, Vinmont Foundation, and Camille and William Cosby, Bette Midler, Oprah Winfrey and Halle Berry.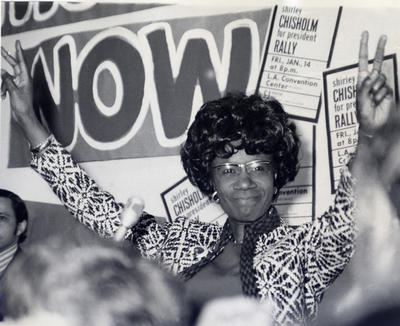 Enlarge
Shirley Chisholm campaigns for the presidency in 1972. Photo credit: Rose Greene, used by permission
The University of California, Riverside (www.ucr.edu) is a doctoral research university, a living laboratory for groundbreaking exploration of issues critical to Inland Southern California, the state and communities around the world. Reflecting California's diverse culture, UCR's enrollment has exceeded 21,000 students. The campus opened a medical school in 2013 and has reached the heart of the Coachella Valley by way of the UCR Palm Desert Center. The campus has an annual statewide economic impact of more than $1 billion.
A broadcast studio with fiber cable to the AT&T Hollywood hub is available for live or taped interviews. UCR also has ISDN for radio interviews. To learn more, call (951) UCR-NEWS.