Insulin Can Heal Wounds
---
UC Riverside Research Team Discovers that Insulin Heals Wounds
Research has potential for people with diabetes
(January 5, 2007)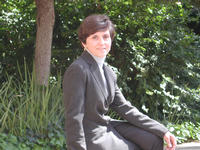 Enlarge
Manuela Martins-Green
RIVERSIDE, Calif. (www.ucr.edu) -- Insulin is a hormone known primarily for regulating sugar levels in the blood, yet researchers at the University of California, Riverside, recently found that applying insulin directly to skin wounds significantly enhanced the healing process.
Skin wounds in rats treated topically with insulin healed faster -- surface cells in the epidermis covered the wound more quickly and cells in the dermis, the deeper part of the skin, were faster in rebuilding blood vessels.
In follow-up studies of human skin cells in culture, Professor Manuela Martins-Green and colleagues from UC Riverside explored the molecular impact of applying insulin on keratinocytes, the cells that regenerate the epidermis after wounding, and on microvascular endothelial cells, the cells that restore blood flow.
Using various cell and molecular techniques, the researchers discovered that insulin stimulates human keratinocytes in culture to proliferate and migrate. In cultured human microvascular endothelial cells, the insulin stimulates only migration into the wound tissue. The insulin works by switching on cellular signaling proteins called kinases (specifically Src, PI3K, and Akt) and a protein (SREBP) that binds elements in DNA that regulate the production of cholesterol and its relatives.
Chronic or nonhealing wounds take an immense toll on American health and on health care systems. It particularly affects millions of patients with impaired mobility, as well as those with diabetes. Because diabetes is a disease caused by impaired production or utilization of insulin, this work may help explain the connection between diabetes and poor healing.
Says Martins-Green, "This work is important because when we know which cells respond to insulin and which molecules are involved, we may be able to develop ways in which we can make insulin work even better or find ways in which more affordable molecules that mimic these functions of insulin can be developed to treat people who suffer from poor healing."
She presented the research last month at the 46th Annual Meeting of The American Society for Cell Biology, held in San Diego. Her work was selected as among the 13 most "Novel and Newsworthy" items for 2006.
She worked with two colleagues, Y. Liu who is on leave from the the burn department at Ruijin Hospital, a university medical center in Shanghai, China; and M. Yao, who is now at the Wellman Center for Photomedicine, Massachusetts General Hospital, Harvard Medical School, Boston, MA.
Prof. Martins-Green has already received emails from people asking about the amount and type of insulin required to speed healing.
Martins-Green is one of many faculty members who have been involved in UC Riverside's plan to open a medical school on campus.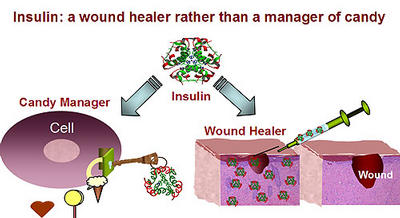 Illustration by Manuela Martins-Green
The University of California, Riverside (www.ucr.edu) is a doctoral research university, a living laboratory for groundbreaking exploration of issues critical to Inland Southern California, the state and communities around the world. Reflecting California's diverse culture, UCR's enrollment has exceeded 21,000 students. The campus opened a medical school in 2013 and has reached the heart of the Coachella Valley by way of the UCR Palm Desert Center. The campus has an annual statewide economic impact of more than $1 billion.
A broadcast studio with fiber cable to the AT&T Hollywood hub is available for live or taped interviews. UCR also has ISDN for radio interviews. To learn more, call (951) UCR-NEWS.