Harry Potter Analyzed
---
UC Riverside 'Pottermania 2005' Offers Scholarly Insights
Wizard's Fans, Academics to Gather Friday, Oct. 14
(October 3, 2005)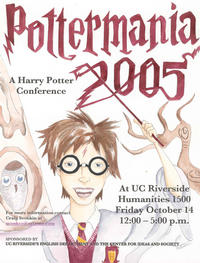 Enlarge
flyer for event
RIVERSIDE, Calif. (www.ucr.edu) -- Organizers of the Pottermania 2005 mini-conference at UC Riverside have gathered wisdom worthy of Hogwarts Headmaster Albus Dumbledore — and will present it in a spirit reminiscent of a box of Bertie Bott's Every Flavor Beans.
The free conference, set for 12 noon to 5:30 p.m. Friday, Oct. 14 in UCR's Humanities 1500, is a joint effort of UCR's English Department and the Center for Ideas and Society. The gathering has attracted scholars who will discuss the conservative Christian backlash against the books, how Harry resembles Richard III and what Hogwarts says about modern educational practices. Organizers have selected papers with more emphasis on entertainment than is usually expected at academic gatherings and snacks will include Chocolate Frogs, and Bertie Botts' Every Flavor Beans. The event will include experts in children's literature and popular culture from many different universities. Most of the scholars are from the local area, but one is coming in from the University of Wales, Aberystwyth.
In July, author J.K. Rowling and her publishers unveiled to worldwide fanfare "Harry Potter and the Half-Blood Prince," the sixth of seven planned novels about the British teen wizard. Fans eagerly await a fourth movie, "Harry Potter and the Goblet of Fire," due to be released to theatres at the end of November. With interest so high, Pottermania 2005 aspires to provide a forum for scholarly analysis of the books, and for discussion between scholars and fans, said conference Chairman Craig Svonkin (SFON-kin), a lecturer in English at UC Riverside.
"Our hope is that we will be able to provide a space for scholarly discussion that is at the same time welcoming to a more general reading audience," Svonkin said. "We are asking for shorter presentations, of approximately 10 minutes, and are encouraging the use of more creative and interesting presentational methods. We are also building in more time for open discussion than that found at many conferences."
The gathering is not endorsed by book publishers, Scholastic Press in the United States and Bloomsbury Publishing in Great Britain, by Warner Bros. Pictures, nor by J.K. Rowling and her representatives.
A schedule follows:
Pottermania 2005: A Harry Potter Conference
Friday, October 14, 2005
Noon-5:30 p.m.
University of California, Riverside
Humanities 1500
Co-sponsored by UCR's English Department and the Center for Ideas and Society
12:00-12:10 p.m.: Introductory Remarks: Welcome Aboard the Hogwarts Express
Craig Svonkin, Conference Chair, University of California, Riverside
12:10-1:30 p.m.: Harry Potter's Reception: Critics, Fans, and Revisionists
Introductions and Prefect: Megan Fowler, University of California, Riverside
1. "Subtle Seductions: Harry Potter and Conservative Christianity"
Leslie Wilson, Americana: The Institute for the Study of American Popular Culture
Abstract: Pope Benedict XVI, then Cardinal Ratzinger, sent a letter in 2003 to Gabriele Kuby praising her book Harry Potter - gut oder böse (Harry Potter - good or evil?). In her study, she argues that the Potter books corrupt our youth by hindering their understanding of good and evil, thus damaging their relationship with Christianity, in general, and God, in particular. "It is good," wrote Ratzinger, "that you enlighten people about Harry Potter, because those are subtle seductions, which act unnoticed and by this deeply distort Christianity in the soul, before it can grow properly." In the United States, we have seen similar contempt for the series. For example, conservative Christian groups organize book burning parties to destroy the Potter books. In "Subtle Seductions: Harry Potter and Conservative Christianity," I will examine this religious backlash against J.K. Rowling's bestselling series.
Biography: Leslie Wilson, Ph.D., is Executive Director of Americana: The Institute for the Study of American Popular Culture and Editor-in-Chief of Americana: The Journal of American Popular Culture.
2. "Harry Potter Moves Right; or, Christian Fantasy Fights Back"
Winona Howe, La Sierra University
Abstract: The response of the religious right to the success of the Harry Potter series can be characterized as a series of attacks, often comprising public and school library challenges, based on accusations of teaching witchcraft and, more recently, encouraging rule-breaking. A more successful tactic, however, may be the production of fantasy novels for children—novels that contain a heavy dose of Christian theology along with more typical fantasy elements. Although the concept of Christian fantasy is hardly new, the imperative for this sub-genre is suddenly much stronger, combining, as it does, the opportunity to offer theological education along with the possibility of economic bonanzas. To date, the author who has best been able to capitalize on this opportunity is G. P. Taylor. I will examine Shadowmancer, the first book of Taylor's trilogy, noting how its basis in Christian doctrine both makes it like and unalike the world of Harry Potter.
Biography: Winona Howe is professor of English at La Sierra University, where she teaches classes in Victorian, children's and young adult literature. She received her B.A. from Pacific Union College, her M.A. from Loma Linda University, and her Ph.D. from University of California, Riverside. She has published articles on Charles Dickens and Wilkie Collins, folk tales, westerns, and the Australian author, Arthur Upfield.
3. "Harry Potter and the Mary Sues"
Gabrielle Lissauer, California State University, Northridge
Abstract: What is the Mary Sue? What does she look like? What are her habits? Who does she prey after? What does she want? And how can she be stopped? Come and learn about the fascinating habits and history of this fictional creature and how she involves herself in various Harry Potter fan fiction stories.
Biography: Gabrielle Lissauer is a graduate student at California State University, Northridge, currently working on her Master's Thesis. She came into Harry Potter fandom late, around book three, thanks to a young neighbor. She has written several fan fiction stories, including one about an Orthodox Jewish girl who goes to Hogwarts, as well as stories dealing with Harry Potter Mary Sues and their demise. She is eagerly awaiting book seven and secretly hopes that Sirius Black comes back to life.
4. "Harry Potter and the Firebreathers" P. Aaron Potter, University of California, Riverside
Abstract: It is no secret that Rowling's Harry Potter series has been the target of vehement attacks from religious fundamentalists (not necessarily only Christians) who see the works as supportive of, or even as textbook examples of, supernaturalism, occult activity, and witchcraft. This paper examines some of the most extreme examples of the attacks leveled against the books, as well as the most extreme reactions by Rowling and her would-be defenders, who sometimes seem to do her cause more harm than good. It is a work of reception criticism, examining a particular aspect of the works' readership and their reactions, but it is also a piece of cultural criticism, examining how the Potter books have served as a catalyst around which have formed any number of ancillary epi-millenial anxieties about our relationship to the infinite.
Biography: P. Aaron Potter is a Lecturer in English at the University of California, Riverside. In addition to the intersection of high academia and popular culture, his research and pedagogical interests include genre fiction, nineteenth-century literature, and digital media.
1:40-3:00 p.m.: The Sorting Hat Speaks: Harry Potter, Educational Theory, and Moral Development
Introductions and Prefect: Wilhelmina Hotchkiss, California State University, Long Beach
1. "Post-Modern Pedagogy in Harry Potter" Jeanella M. Vennekotter, Ph.D.
Abstract: "Post-Modern Pedagogy in Harry Potter" will examine the ways in which J. K. Rowling implicitly characterizes as post-modern the pedagogical differences between the founders of the Hogwarts School for Wizards and Witches. The paper will include a discussion of the instability that originates from a disagreement over three essential aspects of pedagogy: who will be taught; what will be taught; and how it will be taught. The paper will also address the effects of similar conflicts in our own "real" world—California and nationwide schools in general.
Biography: Jeanella M. Vennekotter, Ph.D., received her B.A. in English at San Diego State University; and her M.A. and Ph.D. in English at UCR in 1994. Her dissertation was entitled "Sanctified and Pious Bawds: The Bawd as a Figure of Subversion in Sixteenth-century English Drama." She has taught honors high school English for forty years, coached her school's Academic Decathlon for ten years, and supervised the yearbook for 20 years. She retired in 2003 in order to write full-time.
2."Harry Potter and the High School Dilemma" Sharon Tyler, Ph.D.
Abstract: With Hogwarts, a school where extensive teacher autonomy is backed by a well-established exam system, J.K. Rowling joins an extensive commentary, British and American, about what schools are or should be, one often at variance with official attitudes about real schools. Popular-culture schools, including Hogwarts, present teaching as ongoing frustration, even if comic; protagonist teachers tend to be curmudgeons, eccentrics, or nonentities who gain their deserved recognition late. Through Umbridge, Rowling criticizes the idea of governmental oversight of education; in Snape, she offers an understanding though not forgiving view of the effects of such a career.
Biography: Sharon Tyler is an independent scholar and former lecturer at the University of California, Riverside, from which she has a doctorate in Renaissance drama, specializing in Shakespeare's history plays. Besides having an interest in fantasy from Greek mythology to Tolkien, she has written on detective fiction and on the genre of historical drama.
3. "Unbelievable Victory" Ericka Allen, University of California, Riverside
Abstract: "Unbelievable Victory" is a comparative analysis of Harry's temporary victory over Voldemort in Harry Potter and the Goblet of Fire and Henry Earl of Richmond's defeat of the murderous King Richard in Richard III. In both cases, the key elements of the protagonist's victory include the virtue of being willing to acknowledge and fight for something higher than and/or beyond oneself, and, very importantly, supernatural intervention. Both villains are thwarted by the consequences of their own evil as shades of past victims turn the battle for their needed and needy avenger.
Biography: Ericka Allen is a Ph.D. Candidate in Literature at the University of California, Riverside, and is currently working on her dissertation exploring the influence of the ars moriendi (art of dying well) tradition on late medieval/early modern literature. Her areas of interest are Medieval and Renaissance literature, and especially Shakespeare.
4. "Harry, the Slytherin" Liam Corley, Cal Poly Pomona
Abstract: The House of Slytherin is a narrative, psychological, and moral necessity for the Hogwarts School of Wizardry and Witchcraft. Harry's responses to Professor Snape and Lucius Malfoy reveal the negative characteristics that prompted the Sorting Hat to suggest that Harry belonged in the Slytherin House. Slytherin is the scapegoat that allows Harry to express his vindictive, suspicious, and devious side. Dumbledore's ability to accurately assess and trust the character of Professor Snape results from having exorcised the personal demons that would have otherwise caused him to preemptively persecute Snape as Harry does.
Biography: Liam Corley is Assistant Professor of English at Cal Poly Pomona. He's been a Potter addict since 1999. Though he can't be sure, he thinks that the Sorting Hat would put him in Ravenclaw.
3:00-3:30 p.m.: Chocolate Frogs, Bertie Botts' Every Flavor Beans, and other snacks, in the Gryffindor Tower (i.e., the English Department Seminar Room)
3:30-4:40 p.m.: Harry Potter and "the Other": Postcolonialism, Empire, and Difference
Introductions and Prefect: Winona Howe, La Sierra University
1. "Harry Potter: A World of Fear" Jennifer Sattaur, University of Wales, Aberystwyth
Abstract: "Harry Potter: A World of Fear" argues that, buried and insiduous within the Harry Potter novels, is the very real sense of Western culture under attack from the enemy within. The paper examines the criticisms of conservatism, misogyny, consumerism, and xenophobia levelled against the books, and the ways in which these issues are a part of the picture of Western civilization that Rowling builds. The paper also examines the linked issues of globalization and terrorism from the time of the first Harry Potter book up until the present, and the ways in which the dominant political fears of our time have found a powerful embodiment in the Harry Potter novels. Finally, the paper examines the ways in which the Potter novels have changed and evolved with each subsequent publication, and how such evolution matches the pace of the changing political world climate.
Biography: Jennifer Sattaur is currently a Ph.D. student at the University of Wales, Aberystwyth, having earned her Honors B.A. in English Literature there. Her research areas include the areas of Victorian Children's Literature and Fin de siècle Literature for adults, through the medium of Jungian Psychoanalysis. Her strongest research interests are in psychoanalysis and Children's literature.
2. "Googlies, Bludgers, Snitches: The Relationship Between Sport and Empire"
Andrew Howe, La Sierra University
Abstract: Throughout history, sports have been employed as a means by which different cultures have engaged in non-violent conflict. From the Romans, who built arenas throughout their empire, through the British, who spread cricket to the Indian subcontinent, sports have served to bring together different cultures and peoples. In the Harry Potter series, J. K. Rowling has largely ignored the magical world outside of the British Isles. However, she occasionally makes reference to other nations, usually when discussing the game of Quidditch. Consulting Quidditch Through the Ages (2001) and Harry Potter and the Goblet of Fire (2000), I will examine how Rowling uses sports as a point of entry for discussing the role of postcolonial Britain in the international world of magic.
Biography: Andrew Howe is an Assistant Professor in the Department of History, Politics, and Society at La Sierra University. He teaches courses in history, literature, and film, and his research interests include Andy Warhol, Alfred Hitchcock, and Harry Potter.
3. "Living in the Margins: Legitimacy and Dis/ ability in the World of Harry Potter" David (Rusty) Perez, La Sierra University
Abstract: For ten years, Harry Potter lived on the margins of his relatives' home. Since the beginning of her Hogwarts career, Hermione Granger has been disliked by some for her non-magical parents. After he learned about his Muggle father, Tom Riddle tried, at all costs, to hide his "tainted" blood. Wizards and Muggles live in cultures which look down at the other. This paper explores perceptions of difference in terms of dis/ ability and the assignation of validity and power in the dual worlds of Muggles and wizards.
Biography: David (Rusty) Perez obtained a B.A. in comparative literature at the University of California at Riverside. After teaching high school English for seven years, he returned to school and earned an M.A. from La Sierra University. His interest in Harry Potter was peaked by the religious outcry against the work of J. K. Rowling—"Nothing like a bit of religious zeal for good publicity." Currently he is an English instructor at Riverside Community College's Norco campus and at La Sierra University.
4. "Class through Race in Fantastic Literature by Doris Lessing and J. K. Rowling" Benjamin Harder, University of California, Riverside
Abstract: While Doris Lessing and J. K. Rowling might not be obviously compared, each has racialized class differences in her speculative fiction. In The Fifth Child and Ben, in the World, Lessing imagines a goblin, born to upper-middle-class perfectionists, who must find his origins in the jungles of Brazil. In the "Harry Potter" series, Rowling imagines a race of magical humans hiding among us, along with several other magical species. This paper will argue that critics, especially we in the United States, must guard against over-emphasizing the works' racial conceits at the expense of their critiques of class stratification and human relations with the other.
Biography: Benjamin Harder works in poetry and modernism. He received his Ph.D. in 2003 from the University of California, Riverside, where he now lectures in the English Department. His current projects include an examination of unreliable narrators in twentieth-century poetry and a study of reconfigurations of male identity in modernist literatures.
4:40-5:30 p.m.: An Open Forum of the Grand Wizengamut (Open Discussion and Q & A)
Moderator (Grand High Warlock): Andrew Howe
RELATED LINKS
ADDITIONAL CONTACTS
The University of California, Riverside (www.ucr.edu) is a doctoral research university, a living laboratory for groundbreaking exploration of issues critical to Inland Southern California, the state and communities around the world. Reflecting California's diverse culture, UCR's enrollment has exceeded 21,000 students. The campus opened a medical school in 2013 and has reached the heart of the Coachella Valley by way of the UCR Palm Desert Center. The campus has an annual statewide economic impact of more than $1 billion.
A broadcast studio with fiber cable to the AT&T Hollywood hub is available for live or taped interviews. UCR also has ISDN for radio interviews. To learn more, call (951) UCR-NEWS.