A Festival of World Music
---
UCR Offers Music of Java, the Philippines, the Andes, and Japan
Ethnomusicology is a growing campus strength
(March 2, 2006)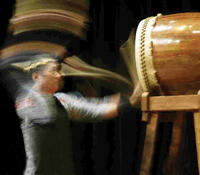 Enlarge
taiko drumming is fast and loud...
RIVERSIDE, Calif. (www.ucr.edu) — A musical tour of the world is on tap in UC Riverside's Festival of World Music, featuring four ensembles playing music of Asia and Latin America, at 8 p.m. Friday, March 17 at University Theatre.
The festival, which features over 60 UCR students, plus faculty and community members, illustrates the expansion of the ethnomusicology program in the Department of Music. The four groups performing are:
• UCR Rondalla Ensemble: Instrumental music and songs of the Philippines. Tagumpay "Pi" de Leon, director. The sound resembles a cross between a violin and a mandolin.
• UCR Andean Music Ensemble: Traditional music of Latin America by UCR's newest student ensemble, Mayupatapi, which means "Riverside" in the Quechua language. UCR ethnomusicologist Jonathan Ritter, director. The program includes music of the Peruvian/Bolivian highlands, the syncopated rhythms of Afro-Peruvian genres played on guitar and cajón (box drum), and the little-known sounds of the Afro-Ecuadorian marimba.
• UCR Taiko Ensemble: New and traditional Japanese drumming. Rev. Shuichi Thomas Kurai, director. The music is a combination of dance, the martial arts, and thrillingly loud, pounding drums.
• UCR Gamelan Ensemble: Traditional music of Central Java performed on the new gamelan, Kyai Telaga Semu. UCR Associate Professor René T.A. Lysloff, director. The gamelan is a set of predominantly percussive instruments featuring tuned bronze gongs, bronze-keyed instruments, and drums (as well as a zither, flute, fiddle, and singing.)
"The Department of Music has a commitment to education through cross-cultural performance," said Lysloff, who studies contemporary music and art of Central Java. "It will feature over 60 students, some drawn to these groups through heritage and others by curiosity. The end result is an energetic evening of wildly varied sounds, each representing different places and differently-sounded world views."
Tickets are $10 general, $8 students/seniors, $6 children and parking costs $5. Tickets can be purchased at the door, or through the UCR Fine Arts Ticket Office: (951) 827-4331.
Tagumpay "Pi" de Leon has played in or directed rondallas for annual Philippine Cultural Nights in various universities and colleges. He has also participated in International Folk Dance Festivals held in Marseille, France and Sicily, Italy in the summer of 1990 and 1993 and also in the 1995 Northwest Folk Life Festival in Seattle, Washington. In between his playing schedules, he conducts rondalla classes and workshops, including his current tenure as a rondalla instructor at UC Riverside. In 1997, he was awarded a grant by the Los Angeles Cultural Affairs Department to train future rondalla instructors through workshops designated as "Master Teacher Apprenticeship Class"
Jonathan Ritter is an ethnomusicologist specializing in the musical cultures of Andean South America. He was first introduced to Native American, West African and Indonesian performance traditions while pursuing undergraduate studies in orchestral percussion at the University of Minnesota, and eventually fell in love with the rich musical heritage of the Andes while living and traveling there in the mid-1990s. For the past decade, his research has concentrated on the indigenous, mestizo, and Afro-Latin musics of Ecuador and Peru. As a musician, he has studied and performed with a number of traditional music groups in the Andes, including the renowned Afro-Ecuadorian marimba ensemble "Tierra Caliente" and the Ayacuchan carnival group "Voces de Colca." He also appeared regularly with the Los Angeles-based Andean folklore group "Kumbres" in the late 1990s.
Rev. Shuichi Thomas Kurai teaches students from many different majors and backgrounds in a taiko class founded in 1998. Instructor Rev. Tom Kuraiis is the abbot of Sozenji Soto Zen Buddhist Temple in Montebello. He began playing in 1975 and is the director of the Taiko Center of Los Angeles. He has received grants from the California Institute of the Arts and the Los Angeles City Cultural Affairs Office to preserve the art of taiko in the community, and most recently received the 2004 Lester Horton Award for best achievement in music for dance.
René T.A. Lysloff is an Associate Professor of Music (Ethnomusicology) at the University of California, Riverside. In addition to performing various instruments of the Javanese gamelan, he continues his research on traditional and contemporary arts in Central Java. Lysloff has published articles in Ethnomusicology (Journal of the Society for Ethnomusicology), Asian Theatre, Cultural Anthropology, and other journals and collections (including the Garland Encyclopedia of Music). Presently, he is finishing a book on shadow theater and music in rural Central Java, based on his fieldwork in the region of Banyumas.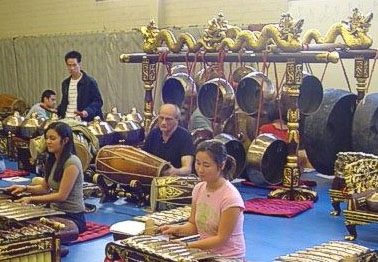 Professor Lysloff (center) practices with students on the new gamelan, a set of predominantly percussive instruments featuring tuned bronze gongs, bronze-keyed instruments, and drums from Central Java.
RELATED LINKS
ADDITIONAL CONTACTS
The University of California, Riverside (www.ucr.edu) is a doctoral research university, a living laboratory for groundbreaking exploration of issues critical to Inland Southern California, the state and communities around the world. Reflecting California's diverse culture, UCR's enrollment has exceeded 21,000 students. The campus opened a medical school in 2013 and has reached the heart of the Coachella Valley by way of the UCR Palm Desert Center. The campus has an annual statewide economic impact of more than $1 billion.
A broadcast studio with fiber cable to the AT&T Hollywood hub is available for live or taped interviews. UCR also has ISDN for radio interviews. To learn more, call (951) UCR-NEWS.