A Guide to Managing Weeds and Invasive Plants
---
Newly Revised Book on Weeds and Invasive Plants Discusses How They Can Be Managed Using Ecological Approaches
Invasive species are a prime reason for loss of biodiversity, says UCR's Jodie Holt, a co-author of the reference book
(October 1, 2007)
NEWS MEDIA CONTACT
Name:

Iqbal Pittalwala


Tel:

(951) 827-6050


E-mail:

iqbal@ucr.edu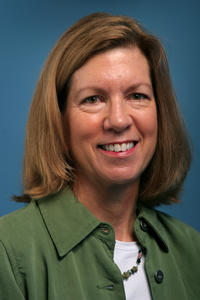 Enlarge
Jodie S. Holt is the chair of the Department of Botany and Plants Sciences and a professor of plant physiology at UC Riverside. Photo credit: UCR Strategic Communications.
RIVERSIDE, Calif. — As people become more globally mobile, plants can inadvertently get transported with them, resulting in new plants appearing in places not used to hosting them. Such invasions of exotic species can occur rapidly, taking over new territories at the expense of native plants.
How weeds and invasive plants develop and interact in their new environment, and how people can manage and control them, are addressed in a newly revised book,
Ecology of Weeds and Invasive Plants: Relationship to Agriculture and Natural Resource Management
(Wiley-Interscience, 2007), a classic reference authored by Jodie S. Holt, a professor of plant physiology at the University of California, Riverside, and two other coauthors.
"After development and urbanization, invasive species are the top reason for loss of biodiversity on our planet," said
Holt
, who is also the chair of the
Department of Botany and Plant Sciences
. "Indeed, the introduction of exotic species into an area is the number one biological reason for the displacement of native species. People move plants around, deliberately and accidentally. While some plants are easily absorbed into new ecosystems, others can spread prolifically and cause much damage."
Now in its third edition, the
book
is the first to integrate an understanding of weeds in agriculture and other managed systems (such as forests and rangelands) with an understanding of weeds in natural ecosystems (such as wildlands).
It provides both an introduction to weeds and invasive plants in various environments and an overview of their ecology and evolution. Its focus is the biological features of weeds and invasive plants found in agriculture, forests, rangelands, and natural ecosystems.
"We cover a variety of exotic invasive plants and discuss methods and tools for managing them," Holt said. "It is a hands-on reference for land managers and professionals in plant sciences, agronomy, weed science, and horticulture. There's something in it for any student of agriculture, ecology, natural resources management, environmental management, or related fields."
Chapters of the book address a variety of topics such as:


the impact of weeds and invasive plants on ecosystems


how exotic plants enter new environments (both natural wildlands and managed lands such as agricultural fields), spread, and do harm


basic genetics and evolution of weeds and invasive plants and the role humans play in facilitating them


how populations of weeds and invasive plants reproduce, spread, and maintain themselves


how plants interact with each other in positive and negative ways


how weeds in agricultural and other managed lands and also invasive plants in natural wildlands (such as forests and deserts) can be prevented and managed.


The penultimate chapter provides a thorough overview of the development, properties, regulation, use, and fate of herbicides; the final chapter is a review of the most current and innovative approaches for managing weeds and invasive plants, and also describes and justifies the need to integrate consideration of human and cultural systems into land management practices.
The first edition of the book, published by Wiley in 1987, described principles of ecology and explained the relationships of weeds to agricultural development. The second edition, published by Wiley in 1997, dramatically expanded the subject matter by including chapters on weed demography, interference, methods to study weed/crop interactions, and the physiology of competition. It also included three chapters on weed control and for the first time introduced social and ethical concerns that can arise from that practice.
In the just released third edition, the authors maintain the basic structure of the earlier editions, but expand the topics to include exotic invasive plants of wildland ecosystems, as well as weeds in agriculture and other managed systems. They also update the previous texts with more recent references and provide different as well as additional examples.
At UC Riverside, Holt conducts research in ecology of weedy and invasive plants to contribute to ecologically sound weed management practices. She is an elected fellow of the American Association for the Advancement of Science and the Weed Science Society of America. An associate editor of the journal
Invasive Plant Science and Management
, Holt is a member of the Ecological Society of America and the California Invasive Plant Council.
Her coauthors of the third edition of
Ecology of Weeds and Invasive Plants: Relationship to Agriculture and Natural Resource Management
are Steven R. Radosevich of Oregon State University and Claudio M. Ghersa of the University of Buenos Aires, Argentina. Radosevich also coauthored the first two editions while Ghersa joined the project for the second and third editions.
Your Adobe Flash Player is missing or out of date or you do not have Javascript enabled in your browser.

Install the latest Flash Player.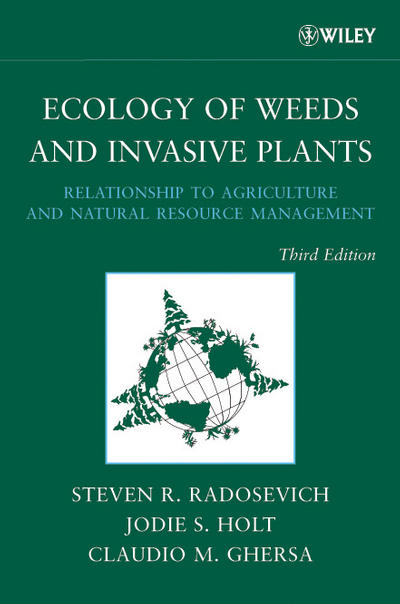 Enlarge
Cover of Ecology of Weeds and Invasive Plants: Relationship to Agriculture and Natural Resource Management (Wiley-Interscience, 2007).
RELATED LINKS
ADDITIONAL CONTACTS
The University of California, Riverside (www.ucr.edu) is a doctoral research university, a living laboratory for groundbreaking exploration of issues critical to Inland Southern California, the state and communities around the world. Reflecting California's diverse culture, UCR's enrollment has exceeded 21,000 students. The campus opened a medical school in 2013 and has reached the heart of the Coachella Valley by way of the UCR Palm Desert Center. The campus has an annual statewide economic impact of more than $1 billion.
A broadcast studio with fiber cable to the AT&T Hollywood hub is available for live or taped interviews. UCR also has ISDN for radio interviews. To learn more, call (951) UCR-NEWS.