Sierra Magazine Puts UC in Top 10 Schools
---
UC Takes Sierra Magazine's No. 4 Spot in Top 10 "Coolest Schools"
Colleges nationwide get recognition for efforts in putting a halt to global warming.
(October 25, 2007)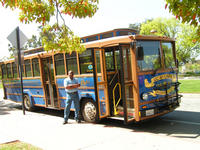 Enlarge
Bus driver Benny Iverson stands next to UCR's Trolley Express line bus that runs on biofuel made from soy beans.(Photo by Kim Lane)
RIVERSIDE, Calif. (www.ucr.edu) — Sierra Magazine named its Top 10 "Coolest Schools" in the November/December issue released today with the University of California System landing the No. 4 spot. All 10 campuses under the UC System are acknowledged in the ranking, including UC Riverside for efforts in stopping global warming.
This is the first time Sierra Magazine, a publication of the Sierra Club, has listed the greenest campuses in America, and the UC System received accolades for its system-wide green policy. Among the UC's goals recognized by Sierra are plans to generate 10 megawatts of renewable power by 2013, a 50-percent increase in the use of low-to-zero-emission vehicles by 2010 and zero waste by 2020 at its 10 campuses.
"At UC Riverside, we realize that combined efforts can have a significant impact on California's environment," said Al Diaz, UCR's Vice Chancellor, Administration. "Working together to slow global warming is embraced by the students, faculty and staff here at UCR and that commitment is illustrated by our own local initiatives."
UC Riverside has made significant strides in achieving campus sustainability. Some of the recent accomplishments include:
• Transportation and Parking Services has expanded alternative transportation programs this year. Vanpooling for fiscal 2006/2007 began with 12 vanpools and added four additional vans for a 33-percent increase in the program. At the end of the year, UCR had an 88 percent occupancy rate for the entire program; 16 open seats from a total of 139 available seats. For 2007/2008, plans call for six new vans, which translates into a 37-percent increase. Out of the six new vans, one is already on the road and another is scheduled to start around the third week of October. The current occupancy rate for the program is 87 percent with 19 open seats from a total of 148 available seats.
• The U-Pass program offers UCR students a free ride on the bus through a unique partnership between the university and the Riverside Transit Agency. Last year, nearly 2,900 students or 17 percent of the school's population took advantage of the offer. All programs encourage students to help minimize the environmental impact of the campus by walking, riding the bus, taking the train, cycling, or sharing a ride to work.
• In June 2006 UCR was acknowledged for having the largest alternative fuel vehicle fleet in the University of California System. Bourns College of Engineering Center for Environmental Research Technology (CE—CERT) has an IntelliShare program where natural gas-powered Honda Civics can be used by the campus staff for transportation in and around UCR. This program is part of the research for new shared-use vehicle systems. Some vehicles are shared to and from the Metrolink station by UCR staff. A number of air-quality, alternative fuel and alternative transportation research projects are underway at CE-CERT.
• Nearly 80 percent of Mail Services' delivery vehicles are electric. Mail Services placed blue recycle containers in every department to collect magazines and advertisement mail that usually end up in the trash. It evaluates all incoming standard mail for a "clean list" to make sure all former employees are removed from incoming or commercial mailing lists, thus reducing daily mail received by 125 pounds per day or roughly 13 tons per year. The department recycles all non-distributed phone books and catalogs that total about two tons per year.
• The UC Riverside's Dining Services uses citrus from campus groves in sauces, marinades and garnishes and fresh juices, recycles its cooking oil to be made into biodiesel and serves eggs produced by on-campus laying hens. Currently under analysis are alternatives for paper supplies, including discontinued use of polystyrene products.
• The Physical Plant uses computer controlled irrigation systems that "sense" moisture levels and irrigate only when and where needed. The Plant also replaced standard light fixtures with low-energy-use fixtures and uses low VOC paints (minimizing the release of volatile organic compounds into the air). Only non-toxic and low-toxicity pesticides are used on campus and campus green wastes are composted. Thermal energy storage tanks are used to optimize UCR's efficient use of power and only biodegradable cleaning solutions are used by the Plant.
• In the Printing Department, environmentally safe water-based solvents are used and inks used for printing are 90 percent soy based. More than 60 percent of paper used (about 40,000,000 sheets per year) is recycled. Also, the department recycles all trim offs from the books, about 12 tons per year instead of being thrown into landfills. All new copiers ordered use "energy star" power reduction that turns off the heating elements in the fuser when not in use, saving up to 40 percent of energy consumed.
• The UCR Child Development Center (CDC) is accepting used inkjet printer cartridges and cell phones for recycling.
Sierra Magazine has a circulation of 1.2 million readers, and is the national magazine of the Sierra Club, the nation's oldest & largest grassroots environmental group.
The University of California, Riverside (www.ucr.edu) is a doctoral research university, a living laboratory for groundbreaking exploration of issues critical to Inland Southern California, the state and communities around the world. Reflecting California's diverse culture, UCR's enrollment has exceeded 21,000 students. The campus opened a medical school in 2013 and has reached the heart of the Coachella Valley by way of the UCR Palm Desert Center. The campus has an annual statewide economic impact of more than $1 billion.
A broadcast studio with fiber cable to the AT&T Hollywood hub is available for live or taped interviews. UCR also has ISDN for radio interviews. To learn more, call (951) UCR-NEWS.