Geneticist Recognized by USDA
---
UC Riverside Rice Geneticist Receives High Honor From U.S. Department of Agriculture
Julia Bailey-Serres is lead recipient of the 2008 USDA National Research Initiative Discovery Award
(December 5, 2008)
NEWS MEDIA CONTACT
Name:

Iqbal Pittalwala


Tel:

(951) 827-6050


E-mail:

iqbal@ucr.edu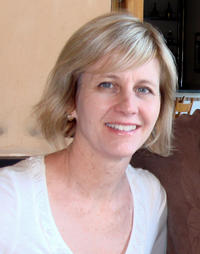 Enlarge
Julia Bailey-Serres is a professor of genetics at UC Riverside. (Additional image below.)
RIVERSIDE, Calif. – For their landmark research leading to the development of flood-tolerant rice that can benefit farmers in flood-prone areas worldwide,
Julia Bailey-Serres
of UC Riverside,
Pamela Ronald
of UC Davis and
David Mackill
of the International Rice Research Institute in the Philippines were honored by the U.S. Department of Agriculture (USDA) with the 2008 USDA National Research Initiative Discovery Award.
The three scientists are, or have been, principal investigators on grants the USDA has awarded them for rice research. Their research achievements were celebrated at a
ceremony
at UC Riverside from 2 p.m. to 3:30 p.m. on Friday, Dec. 5, in Rooms 205/206, Engineering II.
Bailey-Serres, a professor of genetics in the
Center for Plant Cell Biology
and the
Department of Botany and Plant Sciences
, is the lead recipient of the USDA award. She has been the principal investigator on three USDA-funded projects that led to the identification and characterization of genes in rice that are responsible for flood tolerance. Two postdoctoral researchers, Takeshi Fukao (UC Riverside) and Kenong Xu (UC Davis), contributed largely to the research as well.
Gale A. Buchanan
, the undersecretary for research education and economics at USDA, and
Colien Hefferan
, an administrator for the Cooperative State Research Education and Extension Service, presented the awards to Bailey-Serres and her colleagues.
Bailey-Serres and her collaborators have focused in particular on Sub1A, a gene responsible for flood tolerance and found only in some low-yielding rice varieties in India and Sri Lanka.
The characterization of the Sub1 trait in labs at UC Riverside and UC Davis has enabled researchers at the International Rice Research Institute to use sophisticated breeding technology to precisely transfer Sub1A into popular high-yielding rice varieties of countries in South and Southeast Asia, adding a much desired trait in these varieties: recovery after prolonged submergence.
The new rice varieties, which are already popular because of their pest- and disease-resistance and excellent grain quality, recently
passed field tests
in Bangladesh and India, and will be made available within two years to smallholder farmers in flood-prone areas in those countries.
"Prof. Bailey-Serres is the latest in a long line of eminent UC Riverside plant scientists," said Thomas O. Baldwin, the dean of UCR's
College of Natural and Agricultural Sciences
. "Since the beginnings of the university with the founding of the Citrus Experiment Station, what has distinguished our researchers is their rigorous knowledge of the very newest science coupled with a determination to use that science on everyday human problems."
The USDA funding of the Rice Sub1 Project began in the mid-1990s with two grants to Ronald and Mackill totaling nearly $490,000. Subsequently, three other USDA grants were awarded to Bailey-Serres, Ronald and Cynthia Larive, a professor of chemistry at UCR, bringing the grand total of USDA funding to the research team to nearly $1.45 million.
"The Sub1 project provides an excellent example of a productive research collaboration between a breeder and two molecular geneticists," Bailey-Serres said. "Each of the groups brought distinct expertise to the project.
"Dave Mackill recognized rice plants with exceptional submergence tolerance and sought the rice chromosome and region that carried the trait. Pamela Ronald had experience in fine mapping chromosome regions and hunting down genes using plant transformation technology. Takeshi Fukao and I provided expertise on flooding biology and gene regulation that led to the realization that the submergence tolerant trait includes a cluster of related genes."
For Bailey-Serres and Ronald, observing the robustness of the new submergence tolerant rice in farmers' fields in Bangladesh and India in November 2008 was an extraordinary experience. A farmer's wife told them she was very happy to see the new rice growing even though the plants had been underwater for 15 days.
"She and the other women of the family would not have to replant the field," Bailey-Serres said. "There would be rice now when otherwise there may have been none."
For details on the USDA grants and a list of publications that resulted from the research projects, please call 951-827-6050 or email iqbal@ucr.edu.
About Julia Bailey-Serres:
Bailey-Serres received her doctoral degree from Edinburgh University in 1986. She was a postdoctoral fellow at UC Berkeley from 1986-1990, sponsored by a National Institutes of Health postdoctoral fellowship and a USDA independent postdoctoral research fellowship.
She brought her research on plant response to low oxygen stress to UC Riverside in the summer of 1990 as an assistant professor. She has mentored 3 Master's, 14 Ph.D. students and 45 undergraduate researchers.
She was awarded UC Riverside's 2002 Outstanding Faculty Mentor – Chancellor's Award for Excellence in Mentoring Undergraduate Research. She was elected a fellow of the American Association for the Advancement of Science (AAAS) in 2005. That year she also established UC Riverside's first National Science Foundation-sponsored Integrative Graduate Education Research and Training (IGERT) Program that facilitates research interactions between biologists, chemists, computer scientists and engineers.
She is currently on sabbatical at Utrecht University where she holds the F.C. Donders Chair in Plant Genomics.
Her research focuses on unraveling the complexities of plant response to environmental challenges with the aim to provide modern solutions to agricultural challenges.
Award Program for Friday, Dec. 5, 2008
2 p.m.—3:30 p.m.
Engineering Building II, Rooms 205/206
Master of Ceremonies
Jodie S. Holt
Chair, Department of Botany and Plant Sciences
2 p.m. Welcome (
Timothy F. White, UCR Chancellor
)
2:05 p.m. Introductions (
Natasha Raikhel, Director, Institute of Integrative Genome Biology, UCR; Daniel M. Dooley, Vice President, UC Agriculture and Natural Resources
)
2:15 p.m. "Submergence Resilient Rice: From Genes to the Farmers' Fields." (
Speakers: Julia Bailey-Serres, Professor, Department of Botany and Plant Sciences, UCR; Pamela Ronald, Professor, Department of Plant Pathology, UCD
)
2:55 p.m. Award Presenters (
Gale A. Buchanan, USDA Undersecretary for Research Education and Economics; Colien Hefferan, Administrator for the Cooperative State Research Education and Extension Service
)
3:25 p.m. Closing Remarks (
Thomas Baldwin, Dean, College of Natural and Agricultural Sciences, UCR
)
Reception follows.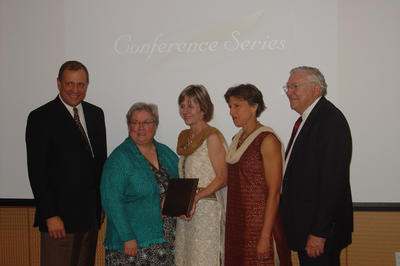 Enlarge
Left to right: Daniel Dooley, Colien Hefferan, Julia Bailey-Serres, Pamela Ronald and Gale A. Buchanan.
The University of California, Riverside (www.ucr.edu) is a doctoral research university, a living laboratory for groundbreaking exploration of issues critical to Inland Southern California, the state and communities around the world. Reflecting California's diverse culture, UCR's enrollment has exceeded 21,000 students. The campus opened a medical school in 2013 and has reached the heart of the Coachella Valley by way of the UCR Palm Desert Center. The campus has an annual statewide economic impact of more than $1 billion.
A broadcast studio with fiber cable to the AT&T Hollywood hub is available for live or taped interviews. UCR also has ISDN for radio interviews. To learn more, call (951) UCR-NEWS.