UC Riverside Distinguished Professor Emory Elliott Died Tuesday
---
UC Riverside Distinguished Professor Emory Elliott Died Tuesday
He was a mentor and guide to many scholars here and around the world.
(April 1, 2009)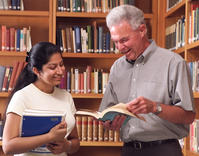 Enlarge
Emory Elliott was an inspiring mentor to his students
RIVERSIDE, Calif. (www.ucr.edu) -- Professor Emory Elliott, an internationally recognized scholar of American literature and a University Professor in the UC system, died of a heart attack Tuesday in his Riverside home, leaving the University of California, Riverside campus in shock.
"Emory Elliott was University Professor in the most profound and encompassing way anyone could imagine," said Katherine Kinney, chair of the Department of English. "He was a friend and mentor to so many on this campus and literally around the world. I think his vocation was simply to make a difference, whether by teaching the power of literature to undergraduates, ensuring that a junior faculty member had the contacts they needed to publish their book, by keeping our department moving forward intellectually, or sharing his committed and progressive understanding of American Studies to the world. Emory is literally irreplaceable."
He grew up in a gritty neighborhood in Baltimore. He was 66 at the time of his death. He came to UC Riverside in 1989 from Princeton University, where he was a professor for 17 years, including three years as chairman of the English department. He said at the time UCR provided what he needed: a growing, progressive place where he was valued for his wide-ranging and interdisciplinary interests.
In his 20 years at UCR, he was a productive scholar, an award-winning teacher and a leader in his academic field nationally and internationally. In 2001, the University of California named him a University Professor, which means he is a resource for the entire system. He is one of only 36 people in the UC system so honored.
He is most closely identified at UCR with the Center for Ideas and Society, a research center he directed with funding from the Ford Foundation, the Rockefeller Foundation and other major foundations. He is known widely on campus because he brought together small groups of scholars from all disciplines to study for a quarter about a common theme, for instance the moral implications of genetic engineering or the place where technology intersects the humanities.
Steve Cullenberg, dean of the College of Humanities, Arts and Social Sciences, said that Emory Elliott not only reached the highest heights of academic accomplishment at Princeton and at UCR, but he also changed the face of academia through his longstanding support of minority and women faculty. "Our thoughts are with his wife, Georgia, and their children," Cullenberg said. "There are no words that can express how terribly much we will miss him."
UCR Associate Professor Rickerby Hinds said Elliott was directly responsible for bringing him into the UCR faculty. "To say that Emory is responsible for my being a Professor at UCR would be a colossal understatement and not even come close to conveying how much this incredible man meant to me and my family. I'll miss him, but am so happy to have been given the gift of his example because now I have a pretty good idea of what I should be aiming for with my own life."
Elliott's interest in recruiting minority students and faculty, and his efforts to improve race relations in general, earned him the Rosemary S. J. Schraer Award for Humanitarian Service, named for a former UCR Chancellor. He also earned a distinguished teaching award from the UCR Academic Senate, the highest form of compliment from his colleagues. He was also one of the first recipients of the Academic Senate's Graduate Student Mentor Award.
"I like UCR's long tradition and pride in undergraduate teaching," Elliott said. "That is very important to me. There is a readiness to accept challenge; to invest in the unfamiliar," he said. "There is a wonderful openness that you don't find in many long-established academic institutions. I think this makes it a very exciting place."
Chancellor Timothy P. White, who came to UCR in July, said even in a short time on campus it was clear that Emory Elliott had it right about UCR, and was in turn a touchstone for this campus.
"This is a shocking and tragic loss for Emory's family and friends, and for UC Riverside," White said. "Our thoughts and prayers are with Georgia and their family. His teaching, creative activity and unselfish service as a UCR faculty member was extraordinary. He was internationally revered among his peers in academia, and he was a gifted teacher. In his 20 years with us, he broke the mold in countless ways, forever changing academia for the better. Emory will be sorely missed."
Elliott grew up in a working class family in Baltimore and started his career as a high school teacher before he worked his way through a Ph.D. program at the University of Illinois.
Among hundreds of honors and publications, Elliott edited a ground-breaking book, "Columbia Literary History of the United States" (1988), that won the American Book Award. He is also a recent past president of the American Studies Association.
He was the author of "Power and the Pulpit in Puritan New England," published by Princeton University Press (1975), and "Revolutionary Writers: Literature and Authority in the New Republic," published by Oxford University Press. He is Series Editor of "The American Novel" (Cambridge University Press) and "Penn Studies in Contemporary American Fiction."
He was a fellow of the National Endowment for the Humanities, American Council of Learned Studies, Guggenheim, and National Humanities Center, as well as a fellow at the Institute for the Humanities at the University of California, Irvine. He taught in many parts of the world, including Paris, Brazil, Beijing, and Poland.
His wife, Georgia, is also part of the UCR family. She is the associate vice chancellor for development. He is also survived by five children, and five grandchildren.
The family has set visitation for 4 to 8 p.m. Friday at Acheson & Graham funeral home at 7944 Magnolia Ave., Riverside A rosary service will be held at 6:30 p.m. A Mass of Christian burial will be 11:30 a.m. Saturday at St. Thomas the Apostle Church, 3774 Jackson St., Riverside. Burial will be private. As a veteran, he will be laid to rest at Riverside National Cemetery.
In lieu of flowers, contributions to support student scholarships may be made in his memory to the
Emory Elliott Memorial Scholarship
through the UCR Foundation, Highlander Hall, University of California,Riverside, Riverside, CA 92521.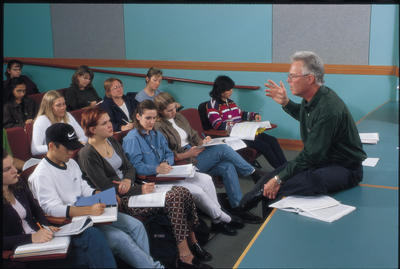 Enlarge
Emory Elliott
The University of California, Riverside (www.ucr.edu) is a doctoral research university, a living laboratory for groundbreaking exploration of issues critical to Inland Southern California, the state and communities around the world. Reflecting California's diverse culture, UCR's enrollment has exceeded 21,000 students. The campus opened a medical school in 2013 and has reached the heart of the Coachella Valley by way of the UCR Palm Desert Center. The campus has an annual statewide economic impact of more than $1 billion.
A broadcast studio with fiber cable to the AT&T Hollywood hub is available for live or taped interviews. UCR also has ISDN for radio interviews. To learn more, call (951) UCR-NEWS.