Barley Genome Research Gets a Boost
---
UC Riverside Research on Barley Genome Gets Boost From $1M USDA Grant
Timothy Close and Stefano Lonardi will attempt to sequence the majority of barley genes; make information available to public
(September 9, 2009)
NEWS MEDIA CONTACT
Name:

Iqbal Pittalwala


Tel:

(951) 827-6050


E-mail:

iqbal@ucr.edu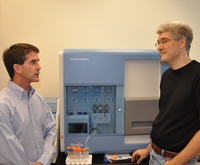 Enlarge
To sequence the barley genome, Timothy Close (left) and Stefano Lonardi (right) will use UCR's Illumina Genome Analyzer 2G, seen between them, which can generate billions of bases of high-quality DNA sequences per run. New sequencing technologies have broad applications in plant sciences and agriculture. Photo credit: UCR Strategic Communications. (Additional photo below.)
RIVERSIDE, Calif. – Barley, one of the world's most important crops, ranks third in the United States and fourth worldwide among cereals in area of cultivation and quantity produced. A major animal feed crop, it is also the grain of choice for making malt and beer, and, in some temperate areas, is increasingly being used as a source of bio-fuel. Barley is considered a healthful food, too, because it can reduce blood glucose levels and lower cholesterol.
To breed improved varieties of barley, scientists must understand its genetic makeup, identify genes that control important traits such as yield, disease resistance, and food and malt quality, and select the best trait combinations they wish to see emerge in new varieties.
Researchers at the University of California, Riverside now will be able to advance their work on sequencing the barley genome (complete genetic blueprint) and breeding new barley varieties thanks to a two-year $1 million grant they received from the U.S. Department of Agriculture's Cooperative State Research, Education, and Extension Service (USDA/CSREES).
The project will build upon resources for physically mapping and sequencing barley genes that the researchers already have developed at UC Riverside from several USDA and National Science Foundation projects they have led.
"New varieties play a critical role in sustaining barley as a crop in the United States," said
Timothy Close
, the principal investigator of the grant and a geneticist in the
Department of Botany and Plant Sciences
. "The long-term goal of our project is to sequence all barley genes and to greatly improve public access to this knowledge."
Close is joined in the research by
Stefano Lonardi
, the grant's co-principal investigator and an associate professor of
computer science and engineering
. Both scientists are members of the USDA/CSREES Barley Coordinated Agricultural Project (
BarleyCAP
), a community effort of 30 scientists from 19 U.S. institutions focused on identifying molecular markers that will dramatically speed up breeding efforts to improve barley for food, feed and brewing.
After crossing different varieties of barley plants, plant breeders sift through the resulting large population of possible new plants in search of superior varieties with particular desired traits. They then isolate these improved varieties by using "marker-assisted selection" or MAS, a sophisticated technology that quickly determines a plant's genetic information.
Close explained that MAS is able to greatly speed breeding efforts by utilizing genetic markers – chemical flags that indicate a particular genetic trait is in the plant. It is these markers that breeders use to screen large populations of plants from crosses of different varieties. In effect, the markers help breeders locate genes linked to traits the way road signs help a motorist arrive at a destination.
"A plant scientist might mark a combination of genes known to increase resistance to, say, African stem rust," Close said. "Breeders wanting a barley variety with this particular disease-resistance trait use marker information to identify this specific combination of genes. This research using MAS is at a jackpot phase with crop plants. We are no longer confined to slower, less directed methods of plant breeding, nor must we base all hope on genetically modified organisms. As long as the naturally occurring germplasm contains the desired traits, and barley usually does, with MAS we can, over just a few years, accomplish improvement in plant varieties that can enormously benefit farmers, markets and consumers."
Close noted that the tremendous opportunities to improve barley through marker-assisted breeding are typical of most of the world's domesticated species.
"This why people all over the world have become so excited about plant genome research, and it is also why all of the US federal funding agencies have recently shifted their priorities in favor of research on plants of economic and societal importance," he said.
Close and Lonardi expect to work with large amounts of data that their research will generate. Lonardi's lab will analyze the bulk of the data generated at UCR and elsewhere. Gene sequences data also will be generated at the University of Georgia by co-principal investigator Jeffrey Bennetzen.
"Our proposed sequencing strategy is quite novel," Lonardi said. "It takes advantage of new combinatorial pooling designs, which allow very large batches of DNA samples to be sequenced at once rather than one DNA sample at a time, combined with high throughput sequencing technology available at UCR. When dealing with large datasets like the one we are expecting, designing time- and space-efficient algorithms is absolutely critical. The analysis of the massive data is likely to create very interesting computational challenges – both in the design of novel algorithms and data structures."
In the project, which began Sept. 1, Close and Lonardi will co-supervise a Ph.D. student in computer science. The grant also will partially support others at UCR: Ray Fenton, a staff research associate; Steve Wanamaker, a programmer; and both graduate and undergraduate students in the Close and Lonardi labs.
Close noted that the results of the project will flow immediately into the BarleyCAP network with the assistance of an additional co-principal investigator, Gary Muehlbaeur at the University of Minnesota, and to a worldwide consortium called the
International Barley Genome Sequencing Consortium
.
The labs of Muehlbaeur and Bennetzen of the University of Minnesota and the University of Georgia, respectively, will share a total of about 230,000 of the $1 million USDA grant to UCR.
A chance encounter at a campus reception in 2001 brought Close and Lonardi into contact with each other, resulting in a strong research partnership that has brought nearly $3.5 million directly to UCR by way of grants, including the new USDA grant.
Barley, a favorite target of geneticists for decades, is one of the first domesticated cereal grains. In addition to its geographic adaptability, it can withstand cold, drought, alkali, and salinity. The barley genome – with 5.3 billion letters of genetic code – is one of the largest among cereal crops and nearly twice the size of the human genome.
USDA/CSREES
advances knowledge for agriculture, the environment, human health and well-being, and communities by supporting research, education, and extension programs in the Land-Grant University System and other partner organizations. Through federal funding and leadership, CSREES focuses on investing in science and solving critical issues impacting people's daily lives and the nation's future.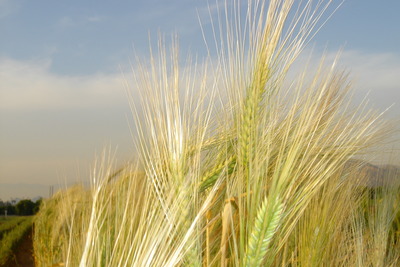 Enlarge
Barley spikes. Photo credit: Close lab, UC Riverside.
RELATED LINKS
ADDITIONAL CONTACTS
The University of California, Riverside (www.ucr.edu) is a doctoral research university, a living laboratory for groundbreaking exploration of issues critical to Inland Southern California, the state and communities around the world. Reflecting California's diverse culture, UCR's enrollment has exceeded 21,000 students. The campus opened a medical school in 2013 and has reached the heart of the Coachella Valley by way of the UCR Palm Desert Center. The campus has an annual statewide economic impact of more than $1 billion.
A broadcast studio with fiber cable to the AT&T Hollywood hub is available for live or taped interviews. UCR also has ISDN for radio interviews. To learn more, call (951) UCR-NEWS.