UC Global Health Institute
---
University of California to Launch Global Health Institute
UC Riverside will partner with the Davis campus to run a Center of Expertise focusing on public health concerns arising from the confluence of factors related to water, animals and food.
(November 9, 2009)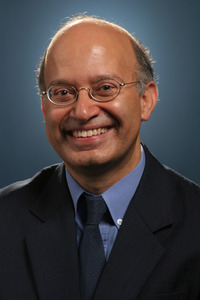 Enlarge
Anil Deolalikar
RIVERSIDE, Calif. – UC Riverside will play a key role in the creation of a University of California Global Health Institute, a groundbreaking, multi-campus program for global health education, research and partnerships announced today at a San Francisco conference on the importance of global health to California.
The Institute is expected to lead eventually to the establishment of the first systemwide professional school – the UC School of Global Health – and will begin with a one-year master's degree that is expected to enroll students in fall 2011. Eventually it also will offer two-year masters and Ph.D. programs granted by the UC campus on which students conduct their work.
Multi-campus Centers of Expertise (COE) will lead the development of these programs and design field projects for students at partnership sites throughout the world.
UCR will partner with UC Davis to lead one of the first three centers, which were selected in a competitive application process. Those centers are: One Health: Water, Animals, Food, and Society, led by UC Riverside and UC Davis; Migration and Health, led by UC San Diego and UC Davis; and Women's Health and Empowerment, led by UC San Francisco and UC Los Angeles.
"When established, this would be the first-ever, systemwide school," said Anil Deolalikar, associate dean of the UCR College of Humanities, Arts and Social Sciences and co-director of the proposed Center of Expertise on One Health: Water, Animals, Food and Society. "It will be an innovative and useful experiment. Rather than every campus having its own school, we will have one systemwide graduate school that harnesses the expertise and resources of all 10 campuses. That could become the model for other professional schools in the future."
The Institute will pioneer a number of educational technologies and delivery mechanisms – for example, online classes, video conferencing across campuses, and students registering for classes across campuses – that the entire system likely will have to move toward in an era of diminishing financial resources, Deolalikar said. "The lessons learned from the Institute will be useful for the entire system," he said.
"I am proud that California is such a leader in the emerging academic discipline of global health," Gov. Arnold Schwarzenegger said in a written statement. "The formation of the University of California multi-campus Global Health Institute and the efforts undertaken by other universities, nonprofit organizations and the business sector directly impact the health of California and the world."
Global health represents more than a $75 billion impact on the California economy, according to a Nov. 9 report by Arindam Nandi, a UCR doctoral candidate in economics, who conducted the study under Deolalikar's guidance and supervision. That impact includes an estimated $49.5 billion of revenue that is generated annually by California companies addressing global health needs, according to the report, and an additional $8 billion in tax revenue for the state, or roughly 7 percent of total state taxes.
The study, "The Importance of the Global Health Sector in California: An Evaluation of the Economic Impact," also found that the global health sector supports 350,000 high-quality jobs in California and provides $19.7 billion in wages and salaries, generating $2 of business activity for every dollar invested by the state into global health. The report is available online at
http://ucghi.universityofcalifornia.edu/news/eir/
.
In his foreword to the economic impact report, Gov. Schwarzenegger wrote: "California is the United States' gateway to the world – and the world's gateway to the United States – in every sense from tourism to immigration to trade. The global health economy is no exception, and this report documents that field's indisputable importance to our great state."
According to Deolalikar, research at the UCR-UCD One Health center will focus on reducing the rate of disease and death resulting from malnutrition, unsafe water, and animal- and vector-borne diseases with the aim of designing, implementing and evaluating health interventions at the national, regional, community and household levels.
"This has tremendous implications for California," Deolalikar said. "A lot of global health problems are very relevant to California – food, proximity to animals, water contamination, water scarcity, and how the combination of these factors leads to illnesses. It's a very California problem, particularly with agriculture being such an important part of the state's economy."
More than 40 faculty members from four colleges at UCR will be affiliated with the One Health center. Along with Deolalikar, professors Marylynn Yates (Environmental Sciences), Peter Atkinson (Entomology), and Nancy Beckage (Entomology) were actively involved in preparing the proposal for the center. Others, such as David Lo of Biomedical Sciences and Manuela Martins-Green of Cell Biology and Neuroscience, also served on the planning committee of the Global Health Institute. Howard Friedman, distinguished professor of psychology, along with Deolalikar served on the Senior Advisory Committee of the Global Health Initiative.
"UC Riverside brings a wealth of knowledge and experience to this new center, along with our partners from UC Davis," said UCR Chancellor Timothy P. White. "The fact that we are co-hosting one of only three Centers of Expertise is a testament to the strength of our faculty, our emphasis on interdisciplinary collaboration, and our reputation for conducting world-class research that produces practical and cost-effective solutions to real-world problems. I am very proud of our faculty members who are directly involved, and delighted that UCR is playing a leadership role in this groundbreaking new institute."
Funding for the UC Global Health Institute will depend on gifts, grants and revenue from enrollment fees. The planning phase is being funded by the Bill & Melinda Gates Foundation and development efforts are under way to obtain start-up funds for the Institute and its Centers of Expertise.
"A goal of the Institute is to graduate students who will become leaders in the field and can implement change in research, policy and practice," says Phillip Darney, professor of medicine at UC San Francisco and co-director of the proposed Center of Expertise on Women's Health and Empowerment.
The Institute will provide the basis for the development of additional future master's and doctoral degrees across the UC campuses, and is intended to establish a proof of concept for an eventual UC School of Global Health (UCSGH), planning for which has spanned two years and involved more than 150 UC faculty.
"The past two years of discussion and planning have been a testament to the zeal and commitment to global health of a broad range of UC faculty," said Haile Debas, M.D., executive director of school planning and UCSF chancellor emeritus and former dean of the School of Medicine. Ultimately, he said, this will help prepare students to be world leaders in global health research, policy and practice.
The Institute will also go beyond the traditional research/publishing paradigm to translate science into action-oriented agendas that will provide real-world solutions to global health problems. It will make innovative use of information technology to connect faculty, researchers, students and partners around the state and across the world and to deliver and enhance education and research in a multi-campus environment.
The Center of Expertise on One Health: Water, Animals, Food and Society at UC Riverside and Davis is designed around a relatively new concept that many illnesses and diseases result not from a single cause, but rather from the synergistic interaction of humans, animals, water and food, Deolalikar said. Partner campuses will include Berkeley, Irvine, Los Angeles, San Diego, San Francisco, Santa Barbara and Santa Cruz.
Both UC Riverside and UC Davis have strong agricultural roots, including Cooperative Extension and Agricultural Experiment Station faculty, Deolalikar said, "which will enable the center to address the agriculture-water-health nexus in its action-oriented research program in a way that no other global health school in the country can."
The Center of Expertise on Migration and Health at UCSD and UCD will be the first multidisciplinary, university-based program in the world devoted to systematically studying the health consequences of international population movements and developing more effective strategies to address them, said Steffanie Strathdee, professor in the UC San Diego School of Medicine, and co-director of the proposed COE. "The program will not only address the health needs of migrants and refugees around the world but also the one-in-four adults and children in California who are foreign-born." Partner campuses will include Irvine, Los Angeles and San Francisco.
At UCSF and UCLA, the Center of Expertise on Women's Health and Empowerment will focus initially on assuring safe motherhood, reducing violence against women, improving family planning and reproductive technologies, advancing sexual and reproductive health and rights, and eliminating environmental threats to women's health. Partner campuses will include Berkeley, Davis, Irvine and San Diego.
RELATED LINKS
ADDITIONAL CONTACTS
The University of California, Riverside (www.ucr.edu) is a doctoral research university, a living laboratory for groundbreaking exploration of issues critical to Inland Southern California, the state and communities around the world. Reflecting California's diverse culture, UCR's enrollment has exceeded 21,000 students. The campus opened a medical school in 2013 and has reached the heart of the Coachella Valley by way of the UCR Palm Desert Center. The campus has an annual statewide economic impact of more than $1 billion.
A broadcast studio with fiber cable to the AT&T Hollywood hub is available for live or taped interviews. UCR also has ISDN for radio interviews. To learn more, call (951) UCR-NEWS.