UCR Professor Awarded Prestigious NSF IGERT Grant
---
UCR Professor Awarded Prestigious NSF IGERT Grant
Research in 5-D video bioinformatics will help develop improved diagnoses and treatments, among many other benefits
(October 2, 2009)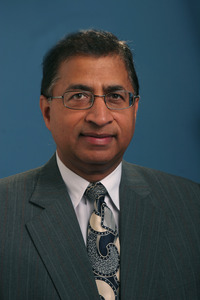 Enlarge
Bir Bhanu
RIVERSIDE, Calif. (www.ucr.edu) – Bir Bhanu, professor of electrical engineering and director of the Center for Research in Intelligent Systems in UC Riverside's Bourns College of Engineering (BCOE), has been awarded the National Science Foundation's (NSF) prestigious and highly competitive Integrative Graduate Education and Research Traineeship (IGERT) grant.
Bhanu is leading an interdisciplinary team of investigators from engineering, life sciences, and information technology that will develop a program in video bioinformatics: the study of 5-D (3-D space, time and wavelength) biological processes captured live by video in real-life experiments.
Examples of the numerous benefits from video bioinformatics research include discovery of proteins and drugs, detection of small tumors, improvement of the quality and yields of agricultural products, improved diagnosis and treatment with multiple imaging modalities, and understanding the deposition, alignment and mobility of pathogens in aquatic environments.
The $3 million ($600,000 per year) award will support 25-30 Ph.D. students over its five-year term. Bhanu will be joined on the UCR team by bioengineering professor Victor Rodgers, computer science professor Vassilis Tsotras, cell biology and neuroscience professor Prudence Talbot and botany and plant sciences professor Zhenbiao Yang. They will be collaborating with researchers from the Lawrence Berkeley National Laboratory and Loma Linda University Medical Center.
Recent advances of live cell video imaging and high-throughput technologies allow researchers to quickly conduct millions of biochemical, genetic, or pharmacological tests for drug design and for understanding the interaction or role of a particular biochemical process in biology. But traditional curriculum doesn't include video computing techniques for biological scientists, or give engineering researchers an understanding of critical biological issues that 5-D analysis can help illuminate. Therefore, a new interdisciplinary curriculum is being developed to train the next generation of engineers and scientists to solve old and new biological and computational problems.
In the past, living systems have been studied as static images; scientists must infer the processes that produce growth, disease, healing and death since there is not a systematic way of examining moving biological images and understanding their dynamics. This IGERT grant addresses the need by bringing together experts from widely divergent backgrounds and by integrating multiple imaging modalities (from nanometer to millimeter scale of spatial resolution) with computational techniques for video data mining, knowledge discovery, and visualization.
Information technology students will learn about the unique needs of studying living systems, and develop methods to enhance the study of these systems. Students in the life sciences will learn how to develop and apply effective computing techniques to dynamic biological problems.
Interdisciplinary project-oriented team-taught courses and group projects are being developed. Each student will participate in an intensive summer workshop before the first year of graduate study. The program will provide continuous mentoring, teaching and leadership opportunities, internship in industry or government, weekly seminars, yearly retreats, and workshops on ethics and communication skills.
It is the first IGERT award for BCOE and the second for the UC Riverside campus. The previous award was given in 2005 to a team of researchers in the Center of Cell Plant Biology led by Julia Bailey-Serres, professor of genetics in the Botany and Plant Sciences Department.
The University of California, Riverside (www.ucr.edu) is a doctoral research university, a living laboratory for groundbreaking exploration of issues critical to Inland Southern California, the state and communities around the world. Reflecting California's diverse culture, UCR's enrollment has exceeded 21,000 students. The campus opened a medical school in 2013 and has reached the heart of the Coachella Valley by way of the UCR Palm Desert Center. The campus has an annual statewide economic impact of more than $1 billion.
A broadcast studio with fiber cable to the AT&T Hollywood hub is available for live or taped interviews. UCR also has ISDN for radio interviews. To learn more, call (951) UCR-NEWS.