Clinton Global Initiative University
---
Clinton Global Initiative University Selects Eight UCR Students
Students will tackle issues of education, health care and violence against women in the developing world.
(April 13, 2010)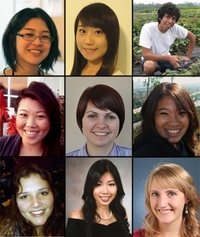 The UCR delegation to CGIU includes (top, l-r) Viet Nguyen, Christine Leung, Fortino Morales III, (middle, l-r) Nicole Tarui, Rachel Meeker, Jessica Yamane, (bottom, l-r) Sydney Craft, Vicky Truong and Samantha Wilson.
RIVERSIDE, Calif. — Eight University of California, Riverside students and an alumna will participate in the third meeting of the Clinton Global Initiative University at the University of Miami April 16-18. The program is a project of the Clinton Global Initiative and is designed to challenge college students and universities to tackle global problems with practical, innovative solutions.
The UCR students who were invited to attend are: Viet Nguyen, a junior from Bakersfield; Christine Leung, a junior from Temple City; Rachel Meeker, a graduate student completing a master's degree in religious studies, from Temecula; Sydney Craft, a sophomore from Sherman Oaks; Nicole Tarui, a senior from Mission Viejo; Vicki Truong, a senior from San Gabriel; Fortino Morales III, a senior from San Diego; and Jessica Yamane, a senior from Arcadia.
Samantha Wilson, who earned a bachelor's degree from UCR in 2009 and works at the university as coordinator of undergraduate research in the community, was invited to participate in a networking session for topic leaders. Wilson, who attended the first two meetings of CGIU as a UCR student, is a topic leader for tutoring and mentoring. In 2008 she created the Child Leader Project, which began with high school students in a poor, rural community in the south Indian state of Tamil Nadu and has grown to include students in Riverside, and may expand into Mexico.
The UCR delegation is made up of students majoring in the sciences, the social sciences and humanities, and business. The students will attend the three-day meeting at the University of Miami, where participants will be asked to commit to a project that will make a difference or change lives. Former President Clinton established the CGIU in 2005 and is scheduled to speak at the conference.
"Our students are committed to improving the lives of people at home and around the world, as their projects demonstrate," said Chancellor Timothy P. White. "Those projects already are making a difference and reflect UC Riverside's commitment to community engagement and to providing experiences that teach our students to be global citizens. I am very proud of these students, and of the faculty and staff who have guided their work."
The students' participation is supported by the University Honors Program through funds donated by UCR faculty, the Ford Foundation and the Honda Grant of the University Honors Program.
The students' projects are substantive, and most have been going strong for the entire academic year or longer, said Kathryn Jones, director of student affairs for the University Honors Program. "These are not just one-time efforts," she said. "These projects hold the potential to make a lasting impression on the civic engagement landscape of Riverside for many generations to come."
For example, UCR students will vote this month on a proposal to fund the construction of solar energy-producing systems on campus. A community garden project is working with campus housing and community groups to supply fresh food and teach K-12 students how they can become partners in sustainability efforts. The Riverside Homeless Outreach-KID Project has been helping homeless youth since 2008. Blossoms of Promise for Education donates school supplies for students in the mountains of Honduras. And Within Her Strength, a self-defense program, will return to CGIU for a second year and will be honored on stage at the gathering in Miami. The program is the 2009-10 Donald Strauss Foundation Scholarship project for UCR.
The students and their projects are:
Viet Nguyen and Christine Leung
,
Kindling With a Purpose, Learning on a Budget
The Kindling Intellectual Development (KID) Program, which began at UCR in June 2008, is a supplemental extracurricular program for low-income students in elementary and middle schools near downtown Riverside. Program coordinators work with students to develop an end-of-school-year project that helps the community. Discussions are under way to identify local pediatricians interested in volunteering their time, raise funds for glasses, and provide services to support mental and emotional wellbeing of the students.
Rachel Meeker and Sydney Craft
,
Child Leader Project: Expansion in the Riverside Area
The Child Leader Project teaches leadership skills and works with youth advocacy agencies in India, and has expanded to include high school students in the Riverside Unified School District. The project currently includes a pen pal program for 86 Indian youth and 86 U.S. college and high school students, and is facilitating other local community programs in the U.S., specifically a Tamil culture club and the Ukapadutudal Book Club, whose reading list focuses on social justice. UCR alumna Samantha Wilson created the project, which is now a nonprofit, in 2008.
Nicole Tarui
,
Funding Schools in Honduras
Tarui started a UCR chapter of Global Brigades and last summer led a group of students and physicians who traveled to many rural villages throughout Honduras setting up free clinics in churches and schools. Through that experience she became aware of the need for supplies and funding to support schools in the village of Pajarillos. She has committed to raise money for school supplies and scholarships, and to create a guide of basic fund-raising principles that teachers and parents can use to continue the effort.
Vicky Truong
,
Solar Panels
Truong is part of a group of UCR students leading an effort to raise money to fund the installation of solar (photovoltaic) panels at UCR to reduce emissions of carbon dioxide and cut energy costs. Students will vote this month on a proposal to assess themselves $2.50 each per quarter for four years. The initiative, known as Green Campus Action Plan, proposes the installation of solar panels on major buildings and fund student projects that are related to sustainable and green initiatives.
Fortino Morales III
,
Sustainable Food Seminar
Morales is hosting a 2-unit, sustainable food seminar this spring to increase student and community engagement around food and farming issues. The seminar brings in faculty experts, experienced staff and community members to analyze the food system from a diverse pool of knowledge and perspectives. The aim is to explore how our current food system affects the environment, our communities, and our economy. Students enrolled in the seminar will hold a public forum and will make presentations on topics covered during the seminar.
Jessica Yamane
,
Within Her Strength
Using American Kenpo karate, Within Her Strength provides a self-defense curriculum for Riverside community organizations and is developing a similar program geared for college-age women and men that can be replicated on other campuses. Both curricula deal with issues surrounding relationship violence and sexual assault. In the greater Riverside arena, Within Her Strength is already engaged in developing programs for Alternatives to Domestic Violence and Path of Life Ministries, a transitional housing community for homeless people.
The University of California, Riverside (www.ucr.edu) is a doctoral research university, a living laboratory for groundbreaking exploration of issues critical to Inland Southern California, the state and communities around the world. Reflecting California's diverse culture, UCR's enrollment has exceeded 21,000 students. The campus opened a medical school in 2013 and has reached the heart of the Coachella Valley by way of the UCR Palm Desert Center. The campus has an annual statewide economic impact of more than $1 billion.
A broadcast studio with fiber cable to the AT&T Hollywood hub is available for live or taped interviews. UCR also has ISDN for radio interviews. To learn more, call (951) UCR-NEWS.