Science Fiction Authors Recognized
---
Science Fiction Authors Recognized for Body of Work
UC Riverside honors Samuel Delany and Harlan Ellison with Eaton Award for Lifetime Achievement.
(July 21, 2010)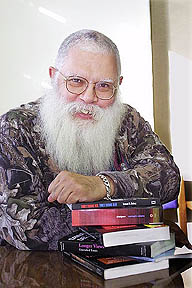 Samuel Delany
RIVERSIDE, Calif. – Renowned science fiction authors Samuel R. Delany and Harlan Ellison have been named recipients of the 2010 and 2011 Eaton Award for Lifetime Achievement in Science Fiction by the University of California, Riverside.
Ellison, the 2011 recipient, will accept the award at the 2011 Eaton Science Fiction Conference in February.
Delany and Ellison are two of the most important science fiction writers of the past half-century, said Rob Latham, associate professor of English and co-organizer of the conference.
"As the first major African-American science fiction writer, Delany enlarged the borders of the field during the 1960s and 1970s, with challenging and visionary novels such as 'The Einstein Intersection' and 'Dhalgren,'" Latham said. "During the same period, Ellison's brilliant short fiction, including such classics as 'Repent, Harlequin! Said the Ticktockman' and 'The Deathbird,' brought an unparalleled energy and ambitious literary sensibility to the genre."
Delany and Ellison are also among the most celebrated of modern science fiction writers, having won numerous Hugo and Nebula awards for their fiction, he said. "We're delighted to be able to add the Eaton Lifetime Achievement Award to their impressive list of honors."
Melissa Conway, head of UCR Libraries Special Collections and Archives, said the university is pleased and honored that Ellison has accepted the award. "Everyone in the reading room in Special Collections was buzzing when they heard he was on the phone," she said.
A longtime admirer of Delany's, Conway said she is "pleased that we have this opportunity to recognize him."
The Eaton Award for Lifetime Achievement in Science Fiction recognizes outstanding authors for their body of work. Science fiction icons Ray Bradbury, author of more than 500 published works including "The Martian Chronicles" and "Fahrenheit 451," and Frederik Pohl, author of such classics as "The Space Merchants" and "Gateway," were the first and second recipients in 2008 and 2009, respectively.
Delany was one of the most important young science fiction writers to emerge in the United States in the early 1960s, Latham said, publishing his first novel, "The Jewels of Aptor," in 1962 at the age of 20. By 1965 he had published five books.
"In Delany's hands, science fiction became an instrument for investigating cultural difference, extrapolating futuristic or alien worlds in which questions of identity emerge as paramount," Latham said. "Since he was black, gay and an avid participant in the youth counterculture, Delany had a strong personal interest in such issues: his work often features outsiders or mavericks who do not fit into neat social categories and who, as a result, undertake intricate, often ambiguous quests to discover themselves and their worlds."
Ellison is probably the most-honored writer of modern science fiction short stories, having won three Nebula awards, a Grand Master laureate and eight and a half Hugo Awards for eight different stories. He is the third most anthologized science fiction writer behind Ray Bradbury and Isaac Asimov.
Ellison's legendary pugnacity has been marshaled in support of estimable causes – he has battled for civil rights and authors' rights – showing enormous personal and professional courage in the process, Latham said. "Early in his career, he often struggled with editors who casually altered or censored his work; as a result, his path-breaking anthologies 'Dangerous Visions' and 'Again, Dangerous Visions' were designed to give SF writers a showcase for their most challenging material," he said. "These taboo-shattering books, and Ellison's own bold and flamboyant fictions, showed his commitment to the enduring values of individual autonomy and unfettered self-expression."
The Eaton Conference will be held Feb. 11-13, 2011, at the Mission Inn Hotel & Spa in downtown Riverside. The theme is Global Science Fiction. Among the conference speakers will be Nalo Hopkinson, the Jamaica-born author of "Brown Girl in the Ring" and "The New Moon's Arms"; China Miéville, the English author of "Perdido Street Station" and "The City and the City"; and Karen Tei Yamashita, an associate professor of literature at UC Santa Cruz and author of "I Hotel" and "Tropic of Orange."
In addition to recognizing recipients of the Eaton Lifetime Achievement Award, winners of the annual UC student short-story contest will be announced. Writers must be full-time University of California students. The deadline for contest submissions is Oct. 8. Details about submitting entries are available at
eatonconference.ucr.edu/2011/contest.php
.
The conference will be preceded on Feb. 10 by the Science Fiction Studies Symposium, which will explore the theme "The Singularity in SF Literature and Theory." Scheduled participants include Neil Easterbrook, who teaches literary theory at Texas Christian University and is an editorial consultant for the journal Science Fiction Studies; Brooks Landon, professor of English at the University of Iowa and author of "Science Fiction After 1900: From the Steam Man to the Stars"; and Latham, who is a senior editor of Science Fiction Studies.
Both the Eaton Conference and symposium are open to the public. Admission to the symposium is free. Registration for the Eaton Conference is $135 or $70 for a single day if made by Sept. 15. More conference information is available at
eatonconference.ucr.edu
.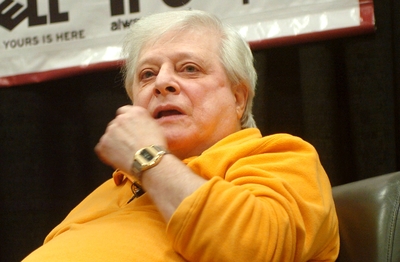 Harlan Ellison/Photo by John Anderson/Used with permission
RELATED LINKS
ADDITIONAL CONTACTS
The University of California, Riverside (www.ucr.edu) is a doctoral research university, a living laboratory for groundbreaking exploration of issues critical to Inland Southern California, the state and communities around the world. Reflecting California's diverse culture, UCR's enrollment has exceeded 21,000 students. The campus opened a medical school in 2013 and has reached the heart of the Coachella Valley by way of the UCR Palm Desert Center. The campus has an annual statewide economic impact of more than $1 billion.
A broadcast studio with fiber cable to the AT&T Hollywood hub is available for live or taped interviews. UCR also has ISDN for radio interviews. To learn more, call (951) UCR-NEWS.